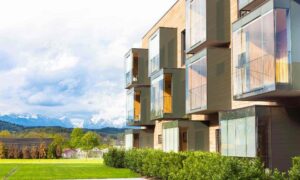 The Spokane area received some welcome news in late September, as Katerra announced its plans to open a 250,000-square-foot facility in Spokane Valley next year, which will employ 150 people from our region.
Katerra is a technology company that specializes in developing innovative approaches to the world of architecture and construction.
The facility will sit on 29 acres of a 52-acre site in Spokane Valley, near Interstate 90 and Barker Road, providing easy access to rail lines and the freeway. Construction will break ground this fall, with production at the facility ready to begin in 2018.
Greater Spokane Incorporated worked with Katerra to find a suitable site for their business, which included numerous options throughout our region.
GSI staff secured money from Washington state to help with the project, and identified any financial incentives that could aid in selecting the Spokane region as the final location. Additionally, GSI staff assisted Katerra in networking with key industry contacts throughout the region. This will allow the company to connect with industry experts that can help Katerra succeed at their new location.
You can read Katerra's full press release announcing the new manufacturing facility on their website.