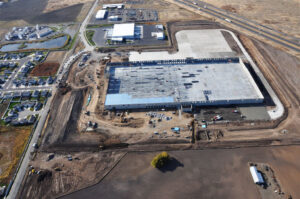 Our President and CEO, Rich Hadley, was quoted in the paper regarding Tuesday's late breaking news that Providence Health & Services will bring 250 billing jobs to Spokane – from clerks to executives, as the story says. Saying it was a great "gift" for Spokane got us thinking.
What are some other recent "gifts" Spokane has received? Since it's the gift-giving and receiving time of year, let's take a look.
Some gifts our community and region received this year, in no particular order, include….
…..A superb harvest. Area farmers experienced great yields and an immensely successful season. Perhaps this is why the 35th Annual Ag Expo sold out so soon.
…..Caterpillar announcing it is expanding to Spokane County. The machinery manufacturer announced in June it will bring about 150 jobs to our area and construct a distribution center along Interstate 90 in West Spokane County. The photo above was taken in late October of this year.
…..$35 million for the Biomedical and Health Sciences Phase I Building at WSU Spokane. This will help bring the second year of medical studies to Spokane. It will also be home to the WSU College of Pharmacy, as well as the nursing and dental programs.
…..Smart educators! Science, Technology, Engineering and Math (STEM) education is starting to trend throughout our region. Multiple school districts are implementing STEM programs, allowing our area students to dig into subjects and learn in ways that will benefit them and the business community in the future.
…..Boeing building the 737 MAX in Renton. Keeping Boeing in Washington was important to maintaining our area's strong aerospace industry. Did you know more than 80 area companies in our area are directly or indirectly related to the industry? Boeing being in Renton means suppliers around here will benefit, and it also leaves the possibility open for expansion in Spokane County. AIR Spokane will ready our region for future aerospace expansion.
…..MILCON (Military Construction) Projects in the federal budget. Fairchild Air Force Base – the area's largest employer – will see construction on its headquarters building and the survival school. It also just laid down a new runway. We're working on advocating for the new KC-46A tankers to be based at Fairchild. Good things are coming!
…..Mark David Milliron. Our Annual Meeting keynote speaker inspired everyone with his speech on education for the future and how businesses and students need to be prepared for each other. The entire Annual Meeting was a call to create something greater for the Spokane region.
So those are a few of the gifts our region was fortunate enough to receive this year. What others come to your mind?