CREATING THE FUTURE TODAY
To continue to compete, and generate momentum, Greater Spokane Inc. has launched Believe Spokane, a five-year campaign to provide more opportunities to our community, laser-focused on growth, equity, and agility.
The goal of this five-year campaign is to increase economic vitality with a focus on economic development and talent attraction and retention.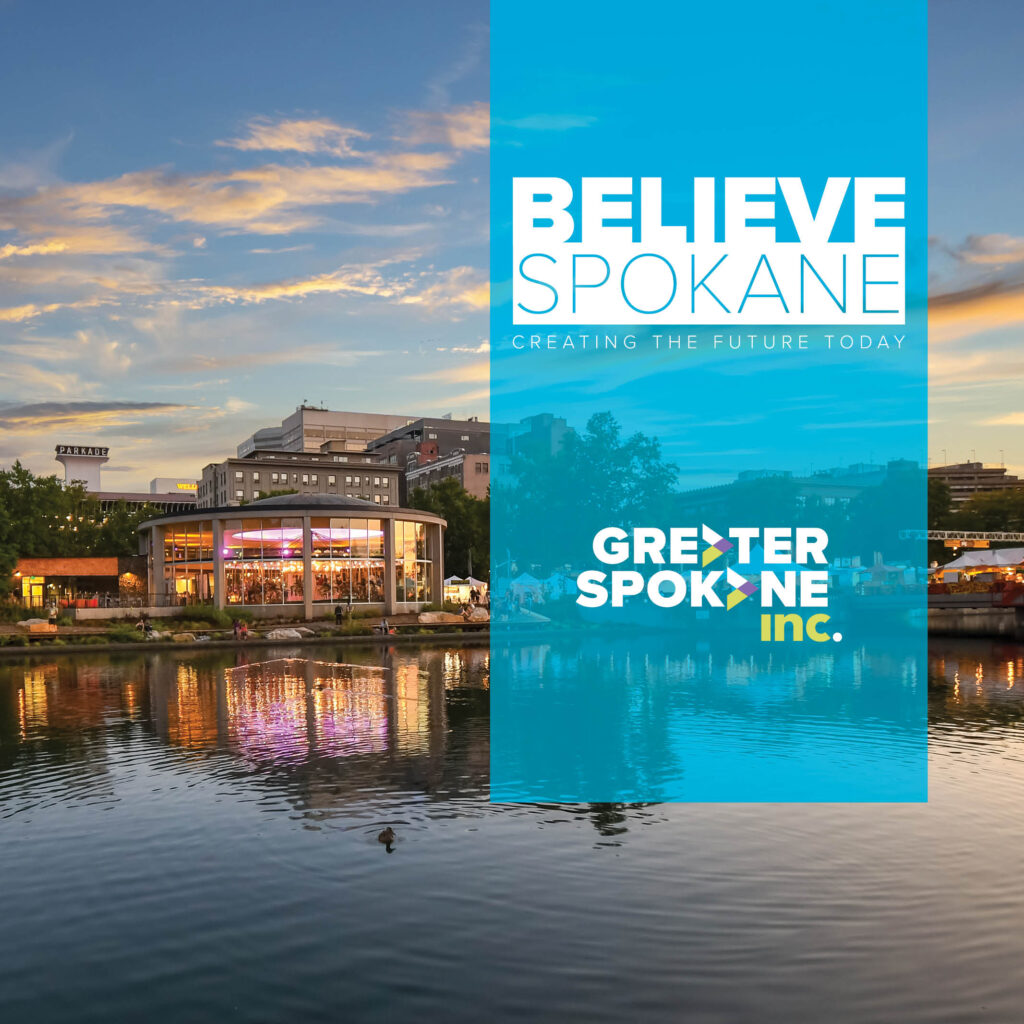 In order to ensure an upward trajectory for the Spokane region, with equity in economic opportunity, it is imperative that GSI drives efforts to increase economic advocacy and vitality by supporting and growing existing industries, supporting and sustaining small businesses and entrepreneurship, attracting new investments and jobs to the region.
Amidst the great resignation, talent has become the gold standard for community growth. Spokane is uniquely positioned in the region with a wealth of educational services, stable and growing employers, and unique resources such as Fairchild Air Force Base. Serving as a leader and convener among educators, employers, and other vital community partners, GSI guides the strategic alignment of community resources and expertise to address disparities in access to opportunities and to meet the demands of employers across the region. GSI leads the Spokane community through the execution of the following initiatives:
Create 5,000 jobs and $1 billion in new capital investment through targeted business recruitment and expansion efforts in targeted sectors


Establish an Opportunity Fund to ensure the region can proactively react to unique growth opportunities


Increase revenues for 50 underrepresented businesses by 25% in year one and 50% in year two after utilizing the accelerator


Connect 100 underrepresented businesses with assistance and resources to promote the growth and expansion of existing companies and small businesses
TALENT ATTRACTION & RETENTION
Establish Spokane regional partnerships bridging businesses with education sectors to provide a minimum of 300 internships for post-secondary students


Provide workforce and employee upskill training support for 100 underserved businesses in the Spokane region through external partnerships and/or grant funding


Provide 5,000 students in the Spokane region career pathway experiences prior to high school graduation in partnership with Career Connect Washington and the Spokane STEM Network


Establish additional Spokane regional business and education partnerships to develop 30% more career pathways and the progression of students through the pathways to post-secondary education and/or employment (i.e. Childcare/Early Education, Aerospace, Health Care, Education, and Information Technology pathways)
AT THE END OF FIVE YEARS, BELIEVE SPOKANE IS TARGETING TO GROW 5,000 JOBS
THESE JOBS ARE EXPECTED TO CREATE AN ADDITIONAL 4,400 SECONDARY JOBS
PRIMARY JOBS ARE AN AVERAGE PAY OF $32.94/HR
PRIMARY JOBS ARE EXPECTED TO CREATE INDIRECT AVERAGE PAY OF $23.67/HR
THIS ECONOMIC ACTIVITY IS EXPECTED TO GENERATE $559,208,850 IN ANNUAL TOTAL EARNINGS
AND $309,109,966 IN ANNUAL AREA PERSONAL CONSUMPTION EXPENDITURES
WHICH COULD RESULT IN $48,320,486 IN ANNUAL DEPOSITS FOR AREA BANKS
TOTAL ECONOMIC IMPACT - $934,151,360
MEET THE BELIEVE SPOKANE LEADERSHIP TEAM
In 1892, the Spokane Chamber of Commerce was incorporated. In 2007, the Spokane Regional Chamber of Commerce (formerly Spokane Chamber of Commerce) merged with the Spokane Area Economic Development Council and formed Greater Spokane Inc. (GSI). In our combined 130 years, GSI has provided the resources of time, leadership, and marketing expertise to strengthen the Spokane region's ability to attract, retain, and grow jobs as well as attract needed capital investment.
In recent years, GSI has advocated for and directly impacted:
Regional education attainment grew from 49.14% to 52.9% during the 2018-2021 time period. During that time, GSI launched the Greater Minds awareness campaign and was awarded the renewal of a three-year contract to operate as the Spokane STEM Network with statewide partner Washington STEM.


No organization is or was alone when facing the global and regional challenges of COVID-19. Through the Spread Kindness campaign, GSI and partners worked together to address the changing environments and rising demands for assistance and connectivity. GSI assisted in the distribution of $24 million in grants to 2,234 businesses and 1.7 million pieces of PPE to 5,575 businesses.


Regional Economic Development by receiving a $350,000 award for Carbon Quest to retain 12 full-time employees and create 200 additional jobs, was awarded $200,000 to fund THRIVE Spokane, the new CEDS plan, and collaborating with the life sciences community to develop the Evergreen BioScience Innovation Cluster as a statewide, Spokane based initiative.