Greater Spokane Inc. has engaged economic development consulting firm TIP Strategies, based in Austin, to assist with the preparation of a Comprehensive Economic Development Strategy (CEDS) for the Spokane region called THRIVE Spokane. 
This work will result in a strategy for guiding the region's economic development and sustainable long-term growth. This will be a countywide effort done in collaboration with community partners and in conjunction with the various jurisdictions, their comprehensive plans, and the wider array of stakeholders such as PDA's, K-12 and higher education institutions, downtown associations, chambers, transportation councils, and residents to create a unifying vision to foster an inclusive, equitable and thriving economy.
Learn more about the project below and click the "learn more" button.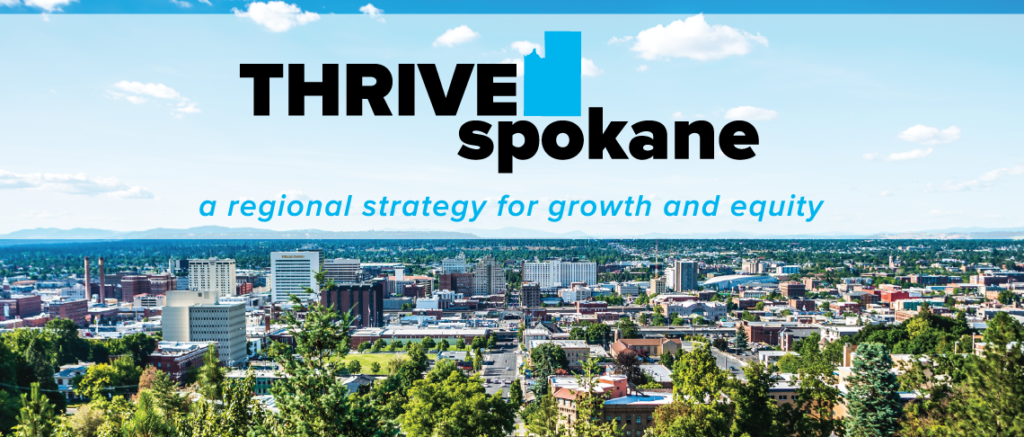 The Implementation Matrix is designed to be a flexible, ever-evolving tool for tracking progress towards implementation of the THRIVE Spokane Comprehensive Economic Development Strategy. In addition to identifying lead organizations and establishing priorities, it provides a graphic representation of when actions should realistically be implemented and suggests potential partners to help carry them out. The status column provides a visual indicator for monitoring where each strategy and action stands. Finally, space is provided for logging key milestones and accomplishments or capturing notes about barriers encountered.
THRIVE Spokane (CEDS) Available for Viewing


To view data findings without installing Tableau Reader, click on the links below
(Note: this option only allows you to view the data, not download)
This Tableau workbook allows users to view data describing the economic health of the Greater Spokane region as well as state and national benchmarks through interactive charts and figures. Charts are grouped into categories based on the content.
In the COVID-19 era, communities that understand the pain points of their local labor force are better equipped to respond effectively to the evolving needs of resident workers. The occupational risk tool combines data on jobs and residents to help users understand which workers are at risk in the current environment, where those workers are located, and their demographic context.
THRIVE Spokane is a region-wide project and your input and engagement are important. Click the "Learn More" button below to send us an email and sign up to receive periodic THRIVE Spokane updates. Contact us by email.
THRIVE Spokane Steering Committee
Alex Gibilisco
City of Spokane
April Needham
WSU
Ben Cabildo
AHANA
Brian McClatchy
City of Spokane
Brooke Baker
Baker Construction
Chaz Bates
City of Spokane Valley
Cyndi Donahue
Ignite Northwest
David Guthrie
NEPDA
Deekon Jones
New Developed Nations
Gary Ballew
GSI
Ginger Ewing
Terrain
Glen Best
Inland Power & Light
Jaxon Riley
Leadership Spokane
Jeff McMorris
Spokane County
GSI
Joe Tortorelli
City of Deer Park
Joey Gunning
GSI
John Powers
Powers of Economics
Juliet Sinisterra
University District
Kelly Fukai
Spokane International Airport
Kirstin Davis
City of Spokane
Lance Beck
Greater Spokane Valley Chamber of Commerce
Lars Gilberts
Numerica Credit Union
Lisa Simpson
Visit Spokane
Mariah McKay
SIMBA
Mark Losh
West Plains Chamber of Commerce
Mark Mattke
Spokane Workforce Council
Mark Richard
Downtown Spokane Partnership
Mason Burley
Innovia Foundation
Meg Lindsay
Innovia Foundation
Michaele Armstrong
sp3nw
Miguel Gonzales
Hispanic Business Association
Patrick Jones
EWU
Shauna Harshman
City of Spokane
Steve MacDonald
City of Spokane
Steve Trabun
Avista
Teri Stripes
City of Spokane
Todd Coleman
S3R3 Solutions
Traci McGlathery
STCU
THRIVE Spokane In-Kind Contributors
Thank you to the following businesses and organizations for their dedication to in-kind staff resources towards the creation of THRIVE Spokane:
These individuals, businesses, and organizations have been committed to developing THRIVE Spokane, the Spokane region's strategy for growth and equity. If you are interested in participating please contact Joey Gunning, Business Growth Coordinator for more information.
AHANA, A4 Ventures, Avista, Baker Construction, Ballet Arts Academy, BECU, BII Spaces, Canopy Credit Union, City of Deer Park, City of Liberty Lake, City of Spokane, City of Spokane Valley, Cowles Company, Downtown Spokane Partnership, Eastern Washington University, Eide Bailly, Gonzaga University, Greater Spokane Valley Chamber of Commerce, Hispanic Business Association, Ignite Northwest, Inland Power & Light, Innovia Foundation, Journal of Business, Kiemle & Hagood Company, Leadership Spokane, MultiCare, NAI Black, Northeast Public Development Authority, Numerica Credit Union, Parametrix, Inc., Powers Economics, Premera Blue Cross, Providence, Rosauers, S3R3 Solutions, SIMBA, sp3nw, Spokane Arts, Spokane County, Spokane Gymnastics, Spokane International Airport, Spokane Public Library, Spokane Regional Health District, Spokane Regional Transportation Council, Spokane Sports Association, Spokane Teachers Credit Union, Spokane Transit Authority, Spokane Workforce Council, Terrain, University District, Visit Spokane, Washington State Department of Commerce, Washington State University, Washington Trust Bank, Waste Management, West Plains Chamber of Commerce, Wilbert Precast