*Member partners – scroll down to view the ribbon cutting guidelines and schedule your ribbon cutting.
As a valued member, GSI is here to help you coordinate and celebrate your organization with a free ribbon cutting.  They can be used to celebrate a grand opening, a renovation, an expansion, a ground breaking, a milestone anniversary, a relocation, and a new ownership. 
Your member partner benefits include:
A GSI team member will help you plan your event

Larger-than-life aluminum scissors and a beautiful teal ribbon

Promotion of your event through GSI social media (*We can only guarantee marketing of your event if complete event description is provided one month prior)
GSI staff member to attend and take photos for social media
The opportunity for you to advertise your event on the GSI community calendar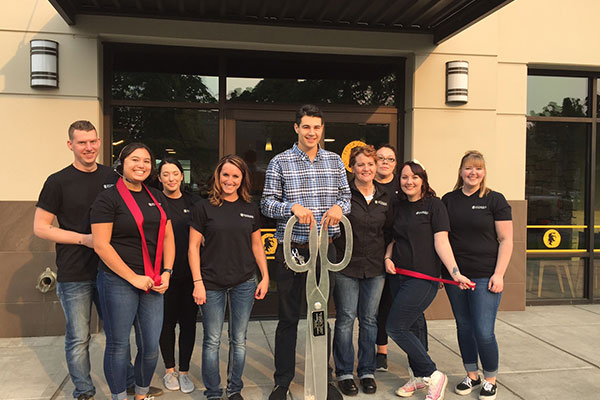 RIBBON CUTTING GUIDELINES
Plan and coordinate your event at least one month ahead of time to ensure GSI can accommodate your ribbon cutting and promote your event effectively. We can only guarantee marketing if the complete event description is provided one month prior to your event.
We suggest the length of the event be between one and two hours.
Use your social media platforms, your newsletter and/or prior company events to promote your ribbon cutting well ahead of the event.
Invite your partners, colleagues, contractors, employees, friends, family, and customers.
Consider inviting the media to cover your event.
Provide refreshments.
Give a tour of your facility.
GSI will not schedule more than one ribbon cutting per week.
Popular event times are during lunch or in the afternoon.
To schedule your ribbon cutting, fill out the form below or contact Debra Whitehead today.
SCHEDULE YOUR RIBBON CUTTING