Members Since: 2005
Website: www.leaveboringbehind.com
David and Brooke Lawrence first met while guiding on the Clark Fork River near Missoula, Mont. They even said their vows along the river – even using the river and a raft as the wedding isle. From that day on, the adventures never stopped.
The newlyweds embarked on a 2,663 mile backpacking trip from Mexico to Canada on the Pacific Crest Trail. That's when the entrepreneurial spark began.
"I realized anything was possible," David said.
During their next venture, a 4,000 mile bike ride across America, the couple solidified a vision to own a rafting company and the search began.

David and Brooke purchased Pangaea River Rafting with a motto to "leave boring behind," and that is certainly what they've accomplished and now pass along to every customer. Pangaea provides a variety of rafting trips in Idaho, Montana and Washington, as well as float trips for families. To add to the fun, the guides provide wine tasting raft trips, geocaching, bird watching by raft and team building for businesses, schools and teams.
David said owning a rafting company is like being a farmer – everything is dependent on the weather. His strategy for survival includes a good attitude and letting go. "It's all in God's hands," he said.
In 2007 Pangaea had its best year ever, followed by the downturn in 2008. "We embraced the challenge and focused on our processes," said David. Numbers declined and income dwindled, but the diversity of trips and scalable business kept them going.
What makes Pangaea different? David responds without hesitation.
"We are blessed with fantastic guides," he said. "I can't wait for my kids to grow up with them and I know my guests are going to love them and have the best four to eight hour experience of their summer."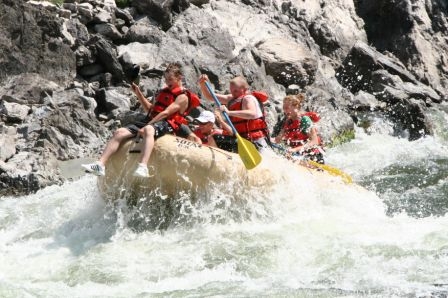 It's no accident that Pangaea has exceptional guides, because customer service is a number one priority and begins as soon as you book a trip. Pangaea also backs up its promise with a 100 percent guarantee – if you are not 100 percent blown away by your rafting trip, they'll pay for it.
The guides are a combination of world travelers, teachers, and students. And talk about an extraordinary workplace culture – when these guides aren't loading boats or running rapids, they are working together, eating together, kayaking. It's a vibrant, family-oriented workplace, to say the least.
Still claiming to be "too young" and new as a business owner, David has proven to be a successful entrepreneur and is a strong supporter of our region's businesses. He is a member of both the Convention & Visitors Bureau (CVB) and Greater Spokane Incorporated, and believes he is doing his part to help others succeed.
Every business is directly or indirectly impacted by the tourism industry, and with the recent cut of the tourism department in the state of Washington, it is imperative that we work together to attract business and leisure travelers to the Inland Northwest. Whether you have connections with an association looking for a place to host their next conference or friends and family seeking a vacation, it starts with an invitation to travel. Once they're here, the Lawrences are sure to provide an experience of a lifetime, sharing the natural wonders and treasures of our region.
Hats go off to David and Brooke who had a vision, made a plan and pursued it. These two showcase the best of the Inland Northwest.