So, how do you network?
Part of our work here is to ensure that the business community has opportunities to find new business. We host more than 60 events a year, and all of them offer the opportunity to network.
When one mentions "networking," the first thought could go straight to talking face-to-face with people. For some, this is easy. For others, it's not. The Internet has also aided people's ability to network in an informal fashion.
Let's take a look at one networking strategy you can use to help your business.
OK, let's set the scene: You're at Good Morning Greater Spokane the second Friday of each month (mark your calendars!). You get there with plenty of business cards, shiny shoes, a nice shirt and a sales pitch ready for use. You unload your sales pitch to the first person you see before knowing anything about them. Is this effective?
Probably not. Sales pitches right off the bat turn people away. One good practice is to get to know the person you've just met.
Linda Davis of MOR Manufacturing is also an image consultant. She spoke at our Good Morning Greater Spokane program in April and provided valuable lessons on successful networking. Davis' main piece of advice was to shift your focus away from your business for a second, and find out how you can serve the person you just met.
At the program, Davis forced the crowd to meet multiple people. We had people giving cookies to each other, people praying with each other and people providing shoes to each other. None of that had anything to do with business, but those people formed a relationship!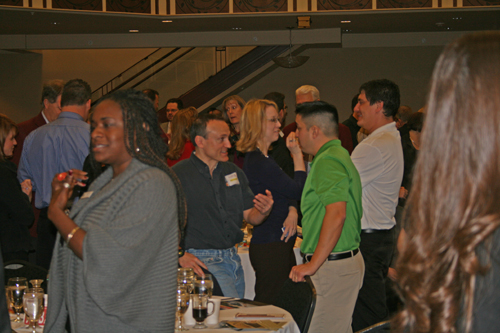 That's the first step. Find out what people do, where they've been, what they want to do, what quirks they may have – anything!
Diane Darling, CEO of Effective Networking, Inc. in Boston, nails it with this quote in Inc. Magazine: "The real definition of networking to me is building relationships before you need them." Once you do need someone, you better hope you've networked with them properly.
Finding your network is another task. Online and face-to-face groups are constantly meeting, and clubs of all sorts form so those with similar interests can network.
Here at GSI, we have a number of groups catered to those interested in an in-person niche community. Whether you're interested in manufacturing, health care, public policy, the military, higher education and many more, we might have a committee for you.
There are many other strategies to networking. What ones work best for you? What success stories do you have?