Spokane economy outperforming national trends
The Spokane economy is progressing at a very good pace and compares favorably to the national numbers," says Steve Scranton, chief investment officer for Washington Trust Bank.
Avista Chief Economist Grant Forsyth agrees. "Our local and regional economy is strong. In fact, the Pacific Northwest is performing much better than the rest of the country as a whole. Of course, that raises the question of whether we are on a different trajectory than the U.S., or just lagging behind and our economy will be pulled down to some degree going forward."
Shaun O'L. Higgins, Managing Principal of The Oxalis Group LLC, and a longtime observer of the regional economy, says, "Quarterly numbers relating to employment, building permits (in particular), home sales, home prices, airport traffic and, perhaps, in retail sales (since these numbers lag one quarter behind other indicators) are all positive."
Jobs and labor force show continued increases
Reminder: we are now using the CES database for employment because it is benchmarked with payroll data that covers a majority of businesses and has very little adjustment over time. We continue, however, to use the LAUS database for unemployment figures since this is not included in the CES database."I am very encouraged with the employment picture in 2016," says Doug Tweedy, Regional Economist, Washington State Labor Market & Economic Analysis. "In 2015, the Spokane MSA added 5,000 new jobs. And we estimate almost the same level of growth in 2016."
Higgins notes, "job growth continued here — posting a nice gain of 3,866 jobs when compared to 1st quarter last year  — a 1.7% increase.
"Spokane is performing similarly to the national numbers for job growth," says Scranton. "I prefer not to use the state numbers for comparison because they are so heavily influenced by what is going on in the Puget Sound area. While our job numbers may not be exciting, they are positive and I much prefer slow and steady increases to runaway growth. Also, we continue to see job growth in higher paying areas, which is very positive for this region."
Unemployment in the 1st quarter dropped modestly, from 7.8% in 2015 to 7.5% this year.
Says Higgins, "our unemployment rate seems to stubbornly persist, even as we grow jobs, and remains substantially above the national rate for 1st quarter of 5.2% and the Washington state rate of 5.8%."
Tweedy explains, "We recorded a 7,000 worker increase in our labor force in the last half 2015 and 1st quarter of 2016, which positions us well for future job and employment growth in this region. The new workers are a combination of recent high school and college graduates, along with those who had given up looking for work but have returned to the labor force now because they see better prospects for employment. The increase in our labor force keeps our unemployment rate from adequately reflecting the growth in jobs, but it is actually a benefit because job vacancies and replacement demands are also increasing and a larger labor pool is needed to fill these jobs."
Forsyth says there is nothing surprising in the employment numbers and that they reflect a fairly strong labor market. He expects the local unemployment rate to continue coming down and notes that unemployment is lower in Kootenai County – in the mid-5% range.
Scranton says, "The only sectors with decreases in jobs from 1st quarter last year were manufacturing and leisure & hospitality. I think manufacturing's decline was related to the strength of the dollar, while the decrease in leisure & hospitality numbers compared to last year may well be a reflection  of jobs created in 2015 with the opening of the Davenport Grand Hotel."
Tweedy points out that total payroll for 2015 increased 3.8% and this trend is carrying over into 2016.
"We continue to see an increase in better paying jobs, particularly healthcare and professional, scientific & technology, many of which are associated with the new and the expanded medical schools," says Tweedy. "The weaker areas of job growth are retail trade and leisure & hospitality. However, counting jobs may not be the best indicator of the health of these industries because retail is more automated, with increased online purchasing, meaning less positions are needed to create the same level of sales. Leisure & hospitality, overall, has become more efficient and is managing with less employees.
Scranton says, "Nationally, labor shortages are developing, which means I would expect to see wage increases in the next year in the 2.5 to 3.5% range rather than the 1 to 1.5% range that has been the norm for a number of years."
Real estate market remains hot
"The real estate market is very strong all across the western U.S.," says Forsyth, "and it is clearly a seller's market. The economic recovery, paired with incredibly low interest rates, is causing the market to be very hot.""Single-family home sales rose only 21 units,year over year for 1st quarter, about a 2% gain, but the median price of a family home was up a robust 8.7 percent," notes Higgins.
Sales volume rose 11.3% for the same period, due in large part to the increase in unit price. Average sale price was up 9.5%.
Higgins continues, "Over the longer term, in the past five years, 1st quarter unit sales have increased by 45 percent, while the median-home price has grown by more than $30,000 (22 percent) to this year's value of $182,500.
Scranton reports, "The inventory of homes on the market was down 19% from what it was a year ago in March. This is bound to slow the growth rate in real estate sales volume. Housing becomes less affordable as price increases outstrip wage increases. We need to monitor what this does to Spokane's ranking on the regional affordability index, where we have ranked very high."
"A recent article in The Inlander expressed concern about another real estate bubble here," says Forsyth. "That may be a real concern in larger markets along the west coast such as Vancouver, BC, Seattle, Portland and San Francisco, but I don't see that as a concern at this time in Spokane."
Retail sales stronger locally than nationally
Reminder: sales tax reporting lags one quarter behind other indicators.  "Sales tax figures for the 1st quarter have yet to be released," says Higgins, "but we now have them for the final quarter of 2015. Compared to the final quarter of 2014, retail sales rose about 5.8 percent, while overall taxable expenditures were up 5.3 percent.

"This is a very good number, when one considers that retail sales at the national level actually dropped in December of 2015 and posted gains of less than a percent in October and November. While the national numbers are not directly comparable to the local numbers, even the worst apples-to-oranges comparison indicates that retail did better here in terms of year-over-year sales than was the case for the nation as a whole."
Forsyth and Scranton continue to caution that while retail sales growth is positive, a significant component remains auto sales and at some point, even with zero percent financing, the demand will soften and impact tax revenue for local, regional and state government.
For the short term, Higgins remains positive. "I expect when the 1st quarter numbers come in for 2016, we will see continuing retail strength compared to the nation, with even stronger increases in total taxable sales, much of it due to spending that has accompanied the increased remodeling activity in the wake of the destructive November windstorm. After all, when you lose your roof or a tree falls into your living room, you need new furniture, not just new shingles.
Incredibly strong permitting activity
There was a big surge in building permits and Scranton notes that remodels were a big part of the increase."Most of the increases in both number and value related to remodeling permits rather than new construction," says Higgins. "This likely reflects rehab work in the wake of the November windstorm that destroyed and damaged homes throughout the county. Consider, for example, that 1st quarter permits for remodeling came in at only about $51.1 million in 2014 and even less, $40.5 million, last year, compared to $134.2 million this year."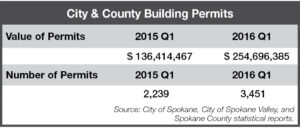 Scranton says there may be another factor influencing the increase in residential remodeling. "Given rising home prices and waning home inventory, it's possible existing home owners can't find new homes they can afford so they are improving their existing homes."
"The number of building permits issued countywide in Spokane in the 1st quarter this year nearly doubled the number issued in 2014 and was 54% above 1st quarter numbers in 2015," says Higgins. "Meanwhile, the value of the 2016 permits jumped 87% for the entire county."
Forsyth points out that permitting is a leading indicator, especially for employment, and calls the 1st quarter permitting numbers "very strong" for single family homes, apartments, commercial and industrial construction. He says "there is now a better balance between public and private projects, and we are finally seeing more new construction in the commercial area."
The City of Spokane had the largest jump in year-over-year permit numbers for 1st quarter at 88.5%, while valuations rose even higher at 108.3%.
In the City of Spokane Valley, permit numbers rose 42.6%, with valuations going up a whopping 322.6%!
Unincorporated Spokane County posted permit increases of 28%, while valuations fell 13%.
Scranton anticipates that construction activity in the Spokane area will continue at a healthy pace, but notes that contractors are beginning to have concerns about finding enough qualified workers.
Airport activity levels remain stable
Cargo volume for year-over-year 1st quarter was up just under 2%. Passenger totals increased 1% for the quarter, but this was due to January and February increases, as March totals were down 3.7%, the first decline in more than 20 months.
"In a market the size of Spokane, the loss of one flight can change the upward trend," says Todd Woodard, Director of Marketing and Public Affairs, Spokane International Airport, "but overall operations at the airport remain positive."
On June 11, for the first time, there will be new weekly nonstop service to Anchorage, provided during the summer by Alaska Airlines. Southwest Airlines has also resumed their summer nonstop service to Midway Airport in Chicago.
Woodard notes that while Spokane is not experiencing the long TSA lines reported at many major U.S. airports, he does encourage travelers to arrive at least 90 minutes before flight time.
"The real issue for Spokane area travelers is the TSA lines at the airports upon their return." He encourages travelers to consider the TSA pre-check option. "They can fill out the enrollment information online at TSA.gov and then select a day and time for an appointment at the enrollment center at Spokane International Airport. On average, the process takes less than 5 minutes at the appointment. The $85 fee covers an individual for 5 years, which is a $17 per year investment in traveling more efficiently through the system."
CPI
The CPI dropped to a new low of 0.26% for the 1st quarter, compared to 0.75% last year and 0.88% in 2014.
Forsyth says, "even if you look at 'core' inflation, which excludes food and energy, the CPI is below the Federal Reserve's target, which provides room for them to delay increases in the interest rate if they choose. We're back to 'will she, won't she' (referring to Federal Reserve Chair Janet Yellen) and it could go either way at their next meeting."
Scranton points out, "the service side of the economy is actually seeing inflation of about 3½ percent – that includes things like medical expenses and airlines travel — and yet overall prices are dropping on the goods side of the economy, whether it's for gas or computer parts. So your own personal rate of inflation is influenced by what you spend the majority of your money on."
Closing Thoughts
Doug Tweedy: With the new jobs gained since 2014 in diversified industries and companies in Spokane, we have laid a strong foundation for job growth in 2016 and beyond. Also, two of our top employment categories, healthcare and education, are downsize resistant.
Grant Forsyth: This presidential election season has shaken up the status quo and is stirring up a great deal of uncertainty, which tends to put people 'on hold' from an economic point of view.
Steve Scranton:  We shouldn't be surprised to see annual interest rates increase by ¼ percent, which will continue to be better for borrowers than for savers. We have had a very respectable first quarter in 2016, but we could be facing slower growth in comparison to 2015 because we are going up against the numbers from such a good economic year.
Shaun Higgins: I don't expect any combination of factors to bring a halt or significant reversal to the economic progress at the national or regional level in the coming quarter, but I will be watching the value of the dollar internationally because it has such strong impacts on our regional agricultural sector. I expect it to stay strong, but if it continues to weaken a bit as it has done in recent weeks, it will slightly improve the ag-trade projection.
The Spokane Regional Business Barometer is a quarterly publication written by Debbie Rauen of Legendary Hills Communications, highlighting the Spokane economy and local economic trends. Data for the publication is assembled by the Eastern Washington University Institute for Public Policy and Economic Analysis.