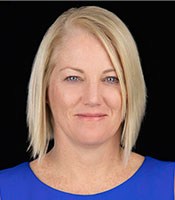 Stephanie Curran
Chair, Forward Fairchild and CEO, Spokane Public Facilities District
As we reflect on Veteran's Day this year, many of us probably have a newfound appreciation for those serving in our military. For those of us who grew up in America in the last fifty or so years, the recent pandemic was our first real experience with how life can be when the world as you know it gets turned upside down. For most of us, we are aware of wars going on across the globe, but our day-to-day life is not necessarily impacted. We have no idea what it feels like to have your freedom threatened or worse, taken away.
My parents immigrated to America just two years before I was born. They were born in the late 1930s in Scotland and spent their early childhoods during WW2. They experienced bombings and food rationing and Polish military personnel were stationed in their small town. When my father was 18 years old, he joined the British Army. He was stationed in Germany and was paired with some American soldiers. One evening they stopped for dinner and my father opened his MRE (Meal Ready to Eat) and it was mutton in a watery gravy. His American counterparts opened their MREs and had turkey and vegetables in a rich gravy (at least that's how it looked to him!). At that moment my dad exclaimed, "I'm in the wrong army!" Ten years later, my parents boarded the QE2 bound for New York. I am grateful to have been born and raised in America and owe it all to the superior MREs of the United States Military.
I have worked for the Spokane Public Facilities District (PFD) for almost twenty years. I began my career at the PFD when we opened the Spokane Veteran's Memorial Arena in 1995 and we continue to host a Celebration of our Veterans every year on Veteran's Day and serve as home to several Veteran's Memorials. Spokane has a history of honoring Veterans throughout the community on Veteran's Day including specials for veterans at restaurants and other businesses.
We are fortunate to have one of the largest air-refueling tanker bases in the United States Air Force (FAFB) in our Region. The base is home to more than 6,000 airmen and over 60 KC-135 air refueling tankers. FAFB originated when local citizens raised money to purchase the land and encouraged the War Department to locate a base here. This mutual support and cooperation between the local community and FAFB remains today. FAFB is home to the 92nd Air Refueling Wing and the 141st Air Refueling Wing of the Washington Air National Guard. These two wings support worldwide military missions, refueling fighter, bomber, reconnaissance, and airlift aircraft as well as passenger and cargo airlift.
Forward Fairchild is a committee of GSI that connects business and community leaders with leaders from all military branches. We provide advocacy support and collaboration on Department of Defense issues. Current issues include adequate and affordable childcare, lack of housing, and licensure compacts. Imagine being the spouse of a veteran and unable to find a home to purchase, childcare for your children, and your nursing license from another state is not accepted? Another way our community supports our airmen is through the Honorary Commander Program which matches business leaders with officers at FAFB to help introduce officers to our region. The support of our region to the airmen of FAFB and their families has earned FAFB the Abilene Trophy multiple times. This honor is granted to the community deemed most supportive of its local Air Force Base.
I recently had the opportunity to witness the final days of Basic Training at Lackland AFB, where all airmen begin their careers. Unlike many countries, these young men and women chose to dedicate their lives to protecting our freedom. They chose to put themselves through seven and a half weeks of rigorous training and education that most of us would never even consider putting ourselves through. To watch their families run to them after graduation and find in their son or daughter, brother, or sister a completely different person than who they were just seven weeks earlier was humbling. To witness these young men and women emphatically take their oath was inspiring. To leave that day knowing that my safety was in the hands of these amazing young citizens gave me a newfound sense of peace.
Because of the great work and dedication of our military, we wake up every morning free. And 100% of the days we wake up free we probably don't even think about it. So, as we honor our beloved Veterans this Veterans Day, let's make a vow to take a moment this day and every day to be thankful that there are those who wake up every morning thinking about us.