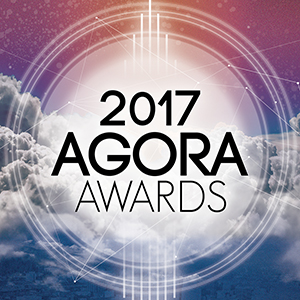 The 32nd annual AGORA Awards take place June 7, and this year's nominations are some of the best we've seen!
At the beginning of each calendar year, we start seeking nominations from our membership, volunteers, past winners and nominees, business owners, and the public. Any charitable non-profit or business is eligible to receive an award, no matter if they are a member of GSI. This year, we received an incredible amount of nominations from throughout our region.
Finalists for this year will be chosen by March 10, with interviews happening between March 20 and April 3. AGORA Awards are presented to five distinct categories: Small and Large Non-Profit organizations, and Small, Medium, and Large businesses. Judges also present AGORA awards for both Community Service and Entrepreneurial Spirit. We'll announce winners at the AGORA Awards ceremony, held in the Spokane Convention Center, Wednesday, June 7.
Thank you to our Title Sponsor, Bank of America, for making this event possible. Robert Half joins us as a Post Event Advertising Sponsor, and LCD Exposition Services is our In-Kind Stage Sponsor for the event.
Seating for the 2017 AGORA Awards is limited, and registration is open now! Visit our event page to secure your seat today!
We are excited to announce our 2017 AGORA Awards semi-finalists! Do you see someone you know? Make sure to congratulate them on their nomination. And, be sure you're at the awards event in June, to celebrate the success of businesses and organizations throughout our region!
Small Business
Brickyard Barbershop
Edward Jones /Financial Advisor
IT Training Solutions
Little Fish Productions
Proactive Health Chiropractic
Referee Photo Inc
Tinderbox Consulting
Vessel Coffee Roasters LLC
Medium Business
BIAS Software
Lost Boys Garage Bar & Grill
Nectar Wine and Beer
Origin Forensics
SouthCare Animal Medical Center
Spokane Empire Football Team
Spokane Gymnastics
Valbridge Property Advisors
Large Business
Community Colleges of Spokane
HUB International Northwest
IntelliTect
Lee & Hayes, PLLC
No-Li Brewhouse
PAML
Spokane Convention Center
Vandervert Construction
Small Non-Profit
AgForestry Leadership
Beyond Pink Spokane Inc
Project Six19
River's Wish Animal Sanctuary
Women & Children's Free Restaurant
Large Non-Profit
Lilac Bloomsday Association
CHAS Health
RMHC of the Inland Northwest
Spokane Housing Ventures
Union Gospel Mission