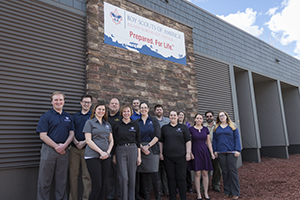 Since 1915, the Inland Northwest Council of Boy Scouts of America has served as a source for youth to learn leadership qualities, gain self-reliance and respect for others, and give back to the community.
Currently, 6,250 scouts are involved in the council's program, which spans across seven counties in Eastern Washington. It also includes the Idaho panhandle and several counties southeast of Spokane, making it a vast area for the council's staff to serve. Attached to their Spokane office are 22 full-time, three part-time, and 150 temporary employees.
Among the staff at the Spokane office is current Scout Executive/CEO, Karen Meier, who brings a wealth of expertise to our region in leading the council. Meier is an active presence throughout the region, and is frequently on the road, visiting with troops throughout the council's service area. That input has aided the Inland Northwest Council in creating its Vision 2022 mission, inspiring youths to become honorable men and women, prepared for tomorrow's challenges and ready to lead others to make a positive impact in the world.
Prior to joining the local organization in August 2016, Meier served as the Scout Executive/CEO for the Far East Council in Japan. Boy Scouts of America has troops throughout the world. Wherever there are US citizens living, on and off military bases, you will find the Boy Scouts of America.
Part of the team who interviewed Meier included GSI Board of Trustees members Jeff Philipps, CEO of Rosauers, and Paul Read, Publisher of the Spokane Journal of Business.
Each scouting troop serves the community in countless ways throughout their time in the program. One of the more visible projects each year is their Scouting for Food event, which collected more than 90,000 pounds of food in 2017. Donated food is provided to local food banks like Second Harvest, helping put food on the table for neighbors and friends throughout the region.
Eagle Scout projects are also visible throughout our community. Last year, 24,128 community service hours were spent on Eagle projects.
Another traditional way of teaching important life skills to scouts is through Boy Scouts' annual popcorn sales. Scouts learn the value of working toward a goal, specifically to work their way toward attending camp. Last year, the Inland Northwest Council reported $900,000 in popcorn sales; 72 percent of those funds stay local.
Last year, the national organization made the decision to allow girls a path to earn their Eagle Scout rank. From ages 6 to 10, Cub Scout packs can serve boys and girls. The youth are grouped into smaller, age-specific groups called dens, and the dens are all boy or all girl. In February of 2019, gender-specific troops will take effect for children ages 11-17, with separate programs for each.
The Inland Northwest Council said the change for grade school age youth has already made a strong positive impact on families throughout the region. Earlier this year, in Idaho's Silver Valley, more girls signed up for Cub Scouts than boys.
Leland Johnsen, program director for the Inland Northwest Council, pointed to the busy nature of today's family dynamic, and how programs in Boy Scouts allow families more time with each other.
"This helps parents spend time with their kids," Johnsen said. "It allows them to have that time to share. As fast as the world is, it allows them to spend one-on-one time together."
While digital devices are now an integrated part of our lives, it doesn't diminish the impact that the Boy Scouts program has in childhood development. STEM education, for example, has been a part of Boy Scouts since its inception in 1910.
Kate Benson, Inland Northwest Council development and marketing director, noted that the chemistry merit badge was one of Boy Scouts' first badges in 1911. Other science-based badges include space exploration, environmental science, geology, oceanography, plant science, welding, and more. A recently-created robotics merit badge as well as ongoing partnerships with local education institutions, like Gonzaga, continually bring additional value to the educational portion of scouting.
The Inland Northwest Council of the Boy Scouts of America has been a member of GSI's since 1988. To get involved, or to learn more about the organization, visit NWScouts.org.
—
Stories inspire us, drive us, and encourage us. Whether they're good or bad, we all learn by example. Share a little about your business with us and you may be featured in a GSI blog or video.
Let us share your story, and show others the great business community of Spokane. Take your first step in the journey at GreaterSpokane.org/Your-Story.