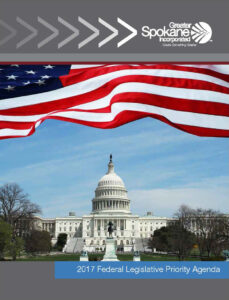 Greater Spokane Incorporated, in partnership with the Greater Spokane Valley Chamber of Commerce and the West Plains Chamber of Commerce, will lead a delegation of 50 area business, education and community leaders to Washington, D.C. May 2 – 5 to advocate on behalf of our region.
The group will focus on improving business climate, Fairchild Air Force Base, education attainment, enhancing health care, and transportation/infrastructure.
The delegation has confirmed meetings scheduled with Rep. Derek Kilmer (D-WA), Rep. Denny Heck, (D-WA), Rep. Cathy McMorris Rodgers (R-WA), Sen. Patty Murray (D-WA), Sen. Maria Cantwell (D-WA), and Steve Pinkos, Staff Secretary and Deputy Director for Domestic Policy to Vice President Mike Pence. This year includes a meeting with France Córdova, Director of the National Science Foundation, in connection with GSI's VISION 2030 initiative. The Association of American Medical Colleges will also host a luncheon focused on health care, discussing upcoming health care issues and graduate medical education.
In addition, our delegation will host a roundtable discussion between Rep. Cathy McMorris Rodgers, Rep. Rick Larsen, New Zealand Ambassador Tim Groser, and Singapore Ambassador Ashok Kumar Mirpuri at the New Zealand Embassy.
The delegation's federal agenda is available for download here.
Read a recap of the trip later this week on our blog, and be sure to follow on Twitter for photos and updates from the trip.