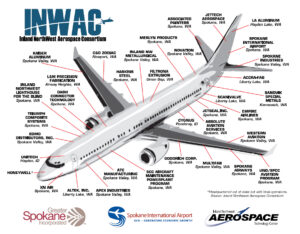 Click the above diagram for a larger view.
The aerospace industry is one of our region's vital and growing sectors.
Currently, there are 80 aerospace-related companies in the Inland Northwest. The graphic above shows how some of the regional companies are involved in aircraft manufacturing.
Governor Christine Gregoire recently launched Project Pegasus, a program aimed at keeping new Boeing manufacturing programs in Washington. We'd like to see the company build its next generation 737, the 737 MAX, in our region.
Here's why:
Many of our regional aerospace-related companies are certified suppliers for Boeing. Additional Boeing programs could have an immediate impact on jobs in the region, at a time when the unemployment rate is around nine percent.
For example, Triumph Composite Systems in Airway Heights manufactures floor panels and air ducts for Boeing. Goodrich Corporation on the West Plains manufactures aircraft wheels and carbon brakes. JetTech Aerospace, located at Spokane International Airport, refurbishes and works on interiors for Boeing business jets.
Other companies are contributing to the aerospace industry in important ways – hiring workers, utilizing innovative technologies and more.
The Inland Northwest Aerospace Consortium (INWAC), co-founded by Greater Spokane Incorporated, brings together companies from Eastern Washington and Northern Idaho that provide products and services to all areas within the aerospace industry. It works to advance the aerospace industry in the Inland Northwest. Groups like this keep the industry united in its goals.
Recently, the state's capital budget stipulated that the Washington National Guard will transfer land at Geiger Field to Spokane Community College that will be traded with Spokane International Airport to set up the Inland Northwest Aerospace Technology Center. Spokane Community College's Air Washington Program also recently received a $20 million grant from the U.S. Department of Labor. The money will be used for, "education, training and services to support the aerospace industry," according to this news story.
As you can see, the aerospace industry in our region is held in high regard.
The Spokane International Airport Board, local governments, INWAC, GSI and others across the state are working to develop a strategy for new Boeing programs in Washington. With our current aerospace companies already employing a large number of workers, Boeing can take advantage of the many resources in our region.