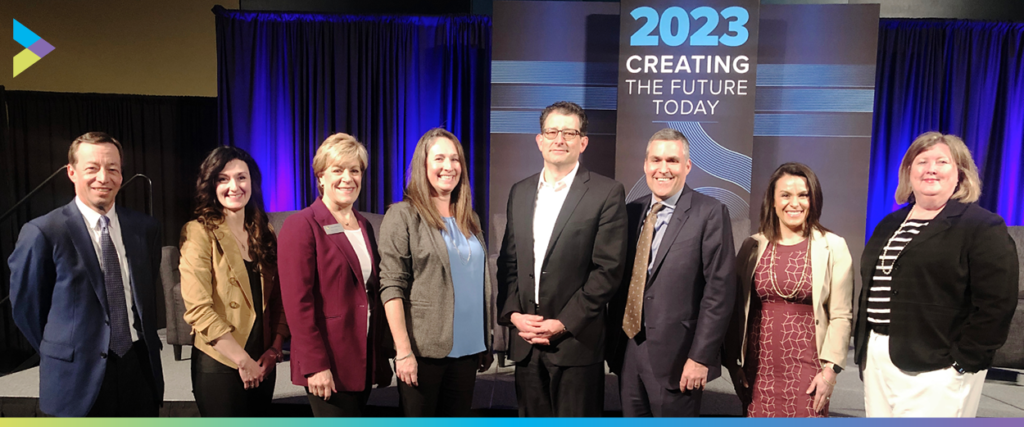 Thank you to our partners, friends, and the community for celebrating with us at this year's Annual Celebration at the Spokane Convention Center.
We launched a new campaign and reflected on 2022 at our Annual Celebration on Wednesday. Panelists spoke about the opportunities and challenges here and those coming our way that will impact businesses and our community. Panelists featured Joel Gilbertson of Providence; Nicole Sohn, Journey Discovery Center; Julie Honekamp, SNAP; Stacey Cowles, Cowles Company; and Moderator, Eva Marquette, FreshVue. The event also featured Immediate Past Chair Marcelo Morales, A4 Ventures, and current Board Chair Carla Cicero, Numerica Credit Union.
Believe Spokane, a new campaign and community collaboration officially launched, targeted to create $1 billion in economic impact and create 5,000 jobs. The campaign focuses on economic development and talent attraction and retention. The campaign aligns with the Spokane region's Comprehensive Economic Development Strategy – THRIVE Spokane and is supported by great partners and businesses that have made a commitment to creating real opportunities for the future.
Supporting our community is what it's all about. Partners at the event submitted their latest business wins as well. We're so proud of your successes. We'll have something special coming out soon on that!
Thank you to our sponsors. This event would not have been possible without you. Presented by PayneWest Insurance, Executive Sponsors Idaho Central Credit Union and Providence Healthcare, Supporting Sponsor Whitworth University, Event Sponsor Spokane Public Facilities District, and Official Airline Sponsor Southwest Airlines.
For more information about Annual Celebration announcements, visit BelieveSpokane.com for campaign information and view our 2022 Annual Report.