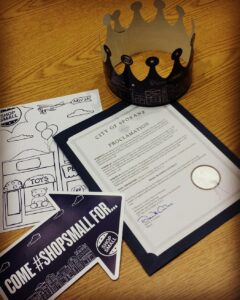 In Spokane, we know that SMALL business is BIG … and GSI is encouraging shoppers to show their favorite neighborhood shops some local love!
Across the country Small Business Saturday is celebrated on the Saturday following Thanksgiving as a day dedicated to celebrating small businesses for the unique offerings they bring to our neighborhoods. As part of our work to enhance and support the greater-Spokane region's small business ecosystem, GSI is serving as Spokane's Neighborhood Champion this year for Small Business Saturday.
It's no secret that small, locally owned businesses play a vital and significant part in our economy. "Because local shop owners are more likely to do business with other local companies, shopping with a locally owned small business means your money stays right here, in our community, where it matters most," said Heather Hamlin, Small Business Programs & Services Manager at GSI. "Trust us when we say this is a really big deal — Mayor Condon officially proclaimed November 28 as Small Business Saturday during Monday evening's Spokane City Council meeting!"
When you consider that 96% of businesses in Spokane County have fewer than 50 employees — 42% of GSI member businesses have 10 or fewer employees and 76% have 50 or fewer employees — it's easy to imagine the impact every dollar spent locally can have!
Local business owners are invested in making our community more vibrant, diverse and strong, and Small Business Saturday is a perfect day for all of us to show those businesses that we are invested in them! GSI is excited to shine a spotlight on the creative, nimble and hard-working small businesses who bring vibrancy to our neighborhoods and business community – this Saturday, and every other day! And, because so many members of our local marketplace were struck a blow by recent weather events, shopping small and buying local is more important than ever.
Over the past month we've featured all kinds of small businesses on our Facebook page, to give shoppers a better idea of the wide variety of buy local options our community has to offer. This list includes just a sampling of the small businesses participating in Small Business Saturday. While you're out and about this weekend, keep your eyes peeled for the bright blue SHOP SMALL posters, banners, flags and balloons!
If you're looking for a way to strengthen your community, empower your neighbors and lessen your carbon footprint — all while experiencing responsive, personalized customer service — there's no better way to do it than to shop small and buy local this holiday season!
#ShopSmall #BuyLocal #SmallBizSaturday
About Greater Spokane Incorporated
Greater Spokane Incorporated (GSI), the Spokane region's Chamber and Economic Development organization, has been creating something greater for Spokane and the Inland Northwest since 1881. GSI is charged with the mission of growing jobs and business investment through robust programs in economic development, workforce development, public policy and small business. GSI is funded through a combination of private and public investment, including 1,200 private-sector member investors; Spokane County; Washington State Department of Commerce; and the cities of Spokane, Spokane Valley, Airway Heights, Cheney, Deer Park, Liberty Lake, Medical Lake, Millwood, Newport, and the Kalispel Tribe of Indians. For more information, visit greaterspokane.org, follow us on Facebook, Twitter andYouTube, or contact us at 509.624.1393 | 800.SPOKANE