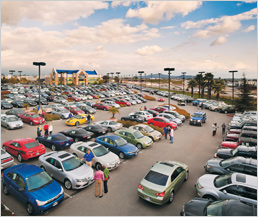 CarMax, a Fortune 500 company and the nation's largest used-car retailer, is expanding to Spokane Valley. Headquartered in Virginia, the company has been named one of Fortune magazine's "Best Companies to Work For" nine years in a row. They currently have over 120 locations nationwide.
CarMax is building a $4.8 million, 44,000-square-foot facility on a nine-acre site. The business is scheduled to open spring of 2014. They chose Spokane Valley because of the busy retail and auto corridor, but plan to open locations in the Seattle market in the future.
Greater Spokane Incorporated helped early on in the site selection process and has stayed in communication with the site selectors and the City of Spokane Valley throughout the process. The annual economic impact for the region is $7,921,459.