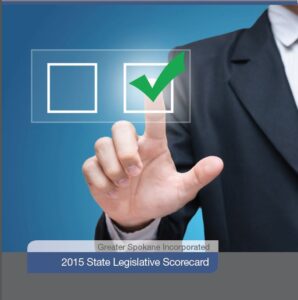 (Spokane, Wash.) – Today Greater Spokane Incorporated released the 2015 State Legislative Scorecard, a record that shows how Washington state Senators and Representatives voted in relation to the organization's 2015 State Legislative Priority Agenda. All told, GSI's 2015 Public Policy advocacy work resulted in more than $1.7 billion – one of the largest-ever funding levels – to finance an impressive list of projects that enhance the region's business climate, as well as addressing issues needed by businesses to be competitive and grow jobs.
Most notably, $878.9 million in funding will allow the region to complete a multi-year initiative – and GSI's highest priority transportation project – the North Spokane Corridor (NSC). The construction of the NSC will create or support an estimated 10 jobs for each $1 million spent, culminating in almost 8,800 jobs.
In addition to work on the NSC, GSI's advocacy work helped secure funding for several other important regional projects and initiatives:
Spokane River Regional Toxics Task Force | $310,000: Funding will help continue the community effort to find and reduce toxic compounds in the Spokane River.
Regional Support Networks and Mental Health | $2,250,000: Provides funding for the Spokane Regional Support Network to provide mental health services.
Mt. Spokane Area Improvements | $3,966,000: Funding will help upgrade and improve facilities at Mt. Spokane State Park.
University of Washington (UW) Funding for WWAMI Program | $9,000,000: Provides funding for the UW WWAMI program to increase medical school enrollment and grow medical residencies, research and commercialization activities.
Washington State University (WSU) Medical School Startup Costs | $2,250,000: WSU Medical School will use funding for curriculum, courses, faculty, and other startup costs.
Eastern Washington University (EWU) Science Building | $4,791,000: EWU will begin the design and construction of a new science building.
Legislation to Allow Multiple State Medical Schools: WSU will be able to establish the state's second publicly-funded medical school to increase the number of primary care physicians in Eastern Washington.
Early Start Act | $158,000,000 (Statewide): The Early Start Act will allow for high-quality early learning programs to prepare children for success in the classroom.
Spokane Valley Tech (SVT) Phase III | $990,000: The Spokane Valley Tech Phase III improvements will finish the 11,000-square-foot facility and create a new environment to prepare students for college and high-demand careers.
Full Funding of State Match for School Construction Projects | $611,099,000 (Statewide): This funding will help schools to build, expand and create new learning environments for students.
Levy Equalization for School Districts with Lower Property Tax Bases: Washington state provides equity between school districts located in the property-rich areas and the schools located in areas where the property assessments are lower by providing matching state funds to offset differences in funding.
NEWTECH Skill Center | $8,150,000: The NEWTECH Skill Center will continue modernization to support technical and professional training to all area high school students.
Transportation Package Capital Funding | $940,700,000: Funding will be provided for maintenance, preservation, and non-highway projects such as bike paths, pedestrian walkways, and transit. Regional projects to be constructed include the North Spokane Corridor ($878,900,000), Medical Lake Interchange Improvements ($26,600,000), Barker Road to Harvard Road ($26,400,000) and the U-District Gateway Bridge ($8,800,000).
Fairchild Air Force Base (FAFB) Capital Funding | $2,209,000: Received funding to purchase land in the Accident Potential Zone to protect FAFB from encroachment.
Hazardous Substance Tax Reform: The Hazardous Substance Tax Reform will restrict tax to crop-protection products used, manufactured, packaged, or sold in Washington state, and waive the tax on products stored for use elsewhere.
The work that begins as a result of this successful legislative session will have long-lasting regional effects that will make a positive difference for generations to come, and GSI is thankful for the bi-partisan and community-wide support that helped turn these advocacy efforts into a tangible reality for the Inland Northwest.
About Greater Spokane Incorporated
Greater Spokane Incorporated (GSI), the region's chamber of commerce and economic development organization, has been creating something greater for Spokane and the Inland Northwest since 1881. GSI is charged with the mission of growing jobs and business investment through robust programs in economic and workforce development, public policy and small business. GSI is funded through a combination of private and public investment, including 1,200 private-sector member investors; Washington State; Spokane County; and the cities of Spokane, Spokane Valley, Liberty Lake, Cheney, Airway Heights, Medical Lake and Newport. For more information, visit GreaterSpokane.org or contact us at 509.624.1393 or 1 800 SPOKANE.
###