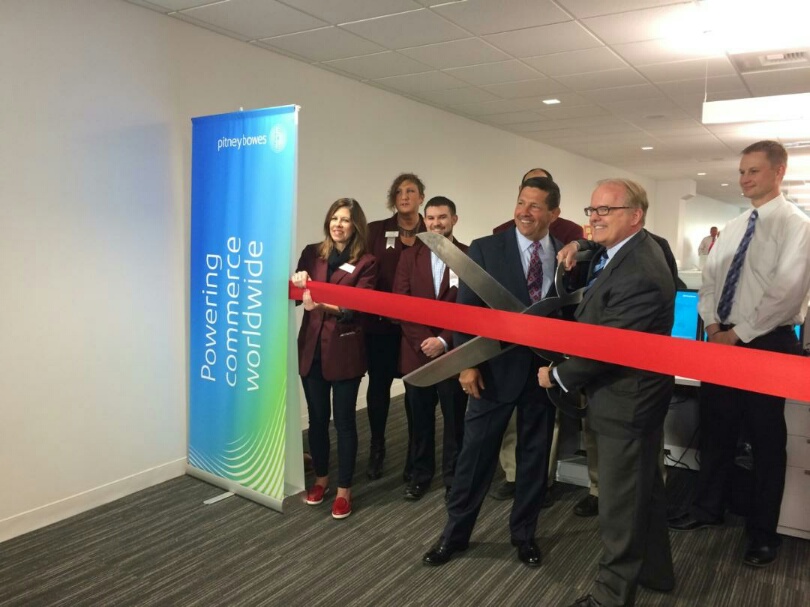 Pitney Bowes Unveils New Inside Sales Center of Excellence
Pitney Bowes Inc, a global technology company that provides innovative products and solutions that power commerce, unveiled its new Center of Excellence for Inside Sales in Spokane last month. The global technology company recently centralized its inside sales operations for the US in Spokane and has hired more than 200 local employees in the last year. A mainstay in the Spokane business community for more than two decades, Pitney Bowes has engaged in a three-phase renovation project to enhance its workplace to better accommodate this new Center of Excellence and help drive employee engagement and collaboration.
Greg Bever Named as Trustee of the Year
Greg Bever, retired publisher of the Journal of Business, was recently recognized by the Washington State Association of College Trustees as their 2015 Trustee of the Year. Greg first served on the Community Colleges of Spokane board in 2007, and served as its president in 2010 and 2012; currently he's chairman of the Association for College Trustees.
Patrick Devries Selected to Serve on National Board
Patrick Devries, CEO of DeVries Business Services was recently selected to serve on the board of directors of the National Association for Information Destruction, the worldwide trade association for information destruction services with member locations in the US and other countries. Patrick says he's proud to give back to the industry and will advocate for better data protection laws in order to reduce ID theft and other crimes related to the stealing of information.
SBA Names Women's Advocate of the Year
Laurie Roth-Donnell, of Spokane, has been named Women's Advocate of the Year by the US Small Business Administration's Seattle District Office. The award is given to someone who goes above and beyond to advocate for and increase business opportunities for women. Laurie is the founding manager of the Inland Northwest Women's Business Center and owner of SBA SOS, an organization that helps women-owned business secure SBA loans.
Spokane Hope School Welcomes New Executive Director
Danette Driscoll recently became Executive Director at Spokane HOPE School (Hearing-Oral Program of Excellence). Danette has more than 20 years in K-12 education, the last 10 as a district administrator including opening Riverpoint Academy, the first STEM+Entrepreseurship high school in the area.
Three Spokane Companies Honored by AWB
The Association of Washington Business Institute's awarded Avista Utilities' Spokane location with the Environmental Excellence Award in the leading environmental practices category; IEDS Logistics Inc. was given the award in the resource conservation/pollution prevention category. Cowles Company employee Catherine Brazil was recognized with the Judy Coovert Award. The Environmental Excellence Award highlights businesses that incorporate environmental sustainability into their work. The Judy Coovert award highlights and individual who have exemplified leadership and service throughout the year.