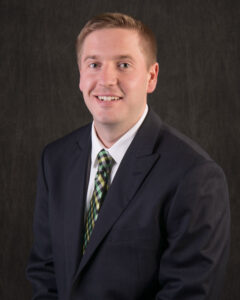 During my first 10 months at GSI I served as Economic Development Coordinator. In that time I learned a great deal about the assets and strengths of the business community here in Spokane, my hometown. This region produces amazing products and services, and I look forward to working with you all in taking them to global markets as I settle into my new position of International Trade & Economic Development Manager.
In recent months our International Trade program has restructured itself to better serve our membership, and the regional business community as a whole. Many of your businesses already have an international reach, and we look forward to assisting you as you expand into additional markets. And, for those businesses that have yet to tap into international markets, we want to deliver the knowledge and tools to help make this step possible. We also will be advocating for policies that encourage international trade and reduce the obstacles in getting your product to customers abroad.
The end goal with this work is job growth and a more robust regional economy that includes increased exports. To accomplish this, we will focus our trade work in four areas:
Trade Education: Education events and activities for businesses seeking to expand their export activity and for those wishing to break into the export market.
Trade Relations: Connect businesses with foreign trade groups, governments, and companies who seek to engage with greater-Spokane regional companies.
Advocacy: In collaboration with GSI's Public Policy team, advocate for policies that support and encourage international trade.
Services: Provide services to businesses that assist in their day-to-day trade operations.
With each country comes different cultural, legal, and regulatory issues. As a result, this work requires the experience and expertise of many in the community, and I look forward to working with you as we expand our reach into the global market.
Going global is a huge opportunity — for you, for your business and for the greater-Spokane region. Shoot me an email or give me a call (509.321.3634) and let's talk about how we can move together, in the right direction.
Drew Repp
International Trade & Economic Development Manager