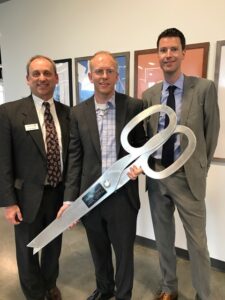 We are excited to announce the grand opening of the new PayTrace office space in Spokane Valley, which will serve as the company's new headquarters.
The office space, located at 12709 E. Mirabeau Parkway, Building A, Suite 100, triples PayTrace's square footage, creates opportunities for better staff collaboration, and allows the company to enhance their office culture.
GSI staff assisted PayTrace during their expansion research efforts throughout the past year. Our staff provided referrals, real estate options and in-depth labor statistics from throughout our region.
The new building, according to PayTrace Director of Operations Justin Goes, will allow the company to scale for the future, and improves a number of working factors for the staff.
"Our new headquarters will empower us to pursue our purpose of making merchants happy by living our values. We are scaling-up all areas of our company including Software Development, Network Administration, Sales, Marketing, Operations, Finance, Talent, and Client Services," said PayTrace founder and CEO Scott Judkins in a press release. "There is an aggressive hiring plan for 2017 that is projected to expand our team to nearly 50 PayTracers. We are passionate about learning, growing and delivering on our promise to invest in our people, planet and profit. It's an exciting time to be at PayTrace."
For more business development news throughout our region, visit AdvantageSpokane.com.