by Debbie Rauen, Legendary Hills Communications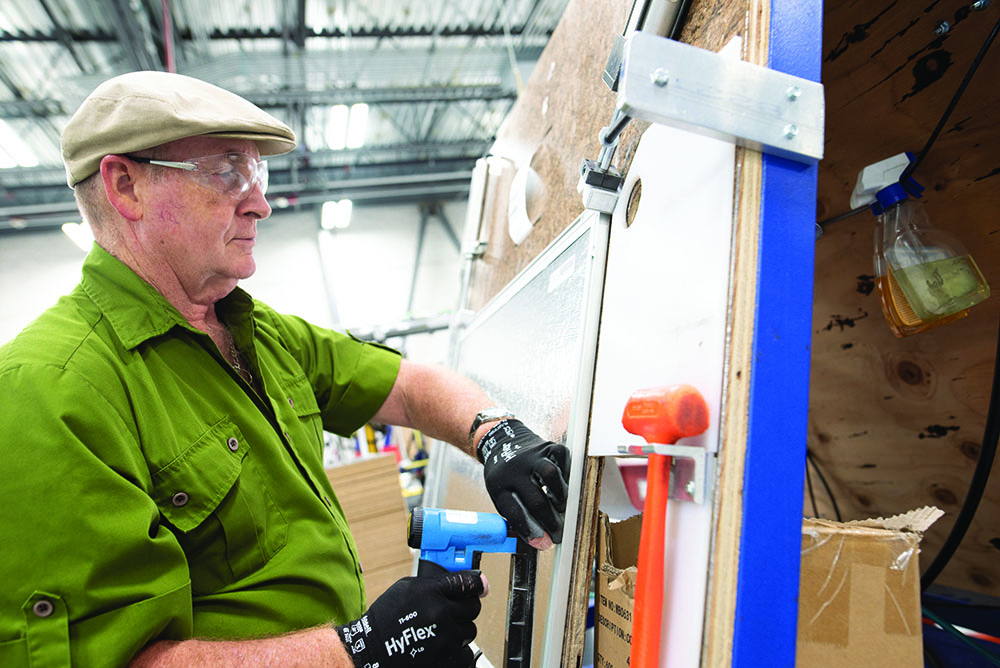 Did you know that nationally, the unemployment rate for adults who are blind is 70 percent?
But a manufacturing company in Spokane has made a huge dent in our local number.
"All of our employees are blind, deaf-blind, and blind with other disabilities," says Greg Szabo, Director of Public Relations & Development for Inland Northwest Lighthouse. "People who tour our facility are always fascinated by how we have adapted our manufacturing equipment to make it accessible."
Inland Northwest Lighthouse makes office products for the federal government, including easels, hanging folders and wallboards, as well as an entrenchment tool and a collapsible shovel for the U.S. military.
Gina's story illustrates the difference Lighthouse is making for each employee.
After two years of determined job-hunting, Gina was hired as a production worker at Lighthouse. Blind since birth, Gina was willing to move away from her family in another part of the state in order to find permanent employment. That meant learning to navigate a new city, using the bus system, all on her own. But Gina says it was important for her to be an active citizen.
She was excited to be a part of a team. "I like working with others. There's no greater satisfaction than ending the day with your collaborative team knowing you have accomplished something."
Lighthouse opened in Spokane ten years ago, when Lighthouse for the Blind in Seattle decided to expand to another Pacific Northwest location. "It was between Spokane and Portland," says Greg. "We selected Spokane because the city had what we were looking for — a sizable population of blind people, a bus system, a reasonable cost of living, and a community, represented by Greater Spokane Incorporated, that was open to us and interested in what we do and how they could assist us."
The first step was finding a building that could accommodate their manufacturing operation. With GSI's assistance, Lighthouse acquired the former Tidyman's store behind Eagles Ice Arena on Spokane's north side. GSI has since assisted Lighthouse in acquiring new government contracts and in a major expansion – adding a second building and going from 45,000 to 95,000 sq ft.
When the Spokane facility opened there were 10 employees, a decade later there are nearly 50.
For Gina, having a job means having her own apartment – "I was living with my brother before." It has freed her from her pre-employment financial worries and enabled her to set aside savings and have the funds to visit a brother in another state she had not seen in 11 years.
Gina is currently enrolled in a computer class at Lighthouse to learn business math. This is because Lighthouse employees can access up to three hours of training each week, on paid time, to learn or increase their mastery of skills such as walking with a cane, using public transportation, reading Braille, or using computers and adaptive technology.
Greg says, "I think it's beneficial for the community to see individuals who are visually impaired or blind traveling around the city, working full-time, even purchasing homes."
To learn more about Inland Northwest Lighthouse or to set up a tour, go to http://thelighthousefortheblindinc.org/inland-northwest-lighthouse.