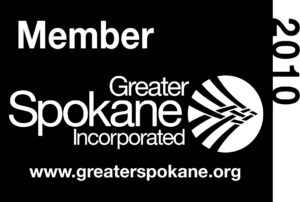 Greater Spokane Incorporated is a membership organization. Think about what organizations you belong to. YMCA? Alumni Association? GSI is membership-driven as well.
We offer all sorts of benefits for different membership levels. From paid advertising opportunities to access to seminars, workshops and other events – the opportunities reach far and wide.
Which is a business or organization gets the most out of its membership by what it puts in. Corbin Senior Activity Center is one local organization that has been a member since 2006. So, how does it take advantage of its membership?
Christa Richardson, Executive Director at Corbin, said at first she was against becoming a member because of budget issues, while also noting that her "clients" – or senior citizens – aren't exactly in the workforce. Richardson then followed the direction of a board member who insisted that they become members.
"How can you say no to a board member?"
Since becoming a member, Richardson says it has paid off.
"I go to all the BIZStreet seminars that I can fit into my schedule," she said. "I learn a lot, but I also get to meet people."
At one Good Morning Greater Spokane breakfast, Richardson met somebody from Intermountain Community Bank at her table. They got to talking, and it just so happened that the bank Richardson currently used for Corbin wasn't fully supporting the organization. Richardson used that contact made at her breakfast table and now Intermountain Community Bank is Corbin's partner.
"I inquired and found out the bank was just fabulous. They have courteous service….eventually the person I met became one of my board members. It has worked out really great."
Richardson also said she likes the GSI Ambassadors, whom she sees as extremely helpful. In fact, after meeting one, the Ambassador donated a microwave to Corbin.
As for certain GSI events, Richardson has a favorite.
"I like the business trainings," she said. "That's my favorite event because you have time to chat with people and you'll always learn something."
It's obvious Richardson puts a lot into her membership with GSI. That's the goal every business should have – be involved and you'll reap the rewards.
"If I wouldn't show up (to GSI events), what benefit would I have? I mean, just being a member is not good enough."