By Gary Ballew, VP, Economic Development, GSI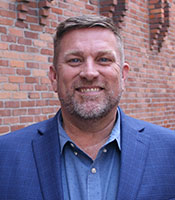 I had the opportunity to attend the International Economic Development Council (IEDC) Future Forum in Richardson, Texas, part of the Dallas/Fort Worth metro area. It was a great time to visit with my fellow economic developers to share and learn. I have been involved with IEDC since 2006 and a lot has changed in economic development over the last decade and a half.
A focus on recruitment has morphed into a much fuller understanding of economic development with a recent shift towards equitable outcomes, which has not always been the case. As an example, many redevelopment efforts in urban core areas ended up displacing the residents who lived there, predominantly communities of color. Redevelopment is important to the health of our communities, but we now work to stabilize the community before and during investment to retain not only the residents but the character of the neighborhood.
I learned a lot at the conference and had the opportunity to present on Preparing Your Community for New Industries. I asked the group a question, "Twenty years from now, what percentage of the workforce will be in jobs that don't exist today?" Over three-quarters of the respondents said greater than 30%. That means a lot of our future industries do not exist today. Think of the rise in social media and positions like Social Media Manager.
My presentation was on identifying these emergent or nascent industry clusters, like our own clean/green energy/building cluster. It is so new we are not sure what to call it but it is embodied in the Catalyst building and encompasses companies like CarbonQuest in Spokane Valley, which recently received a Strategic Reserve Fund grant secured by GSI.
Not only did I get to present but I was able to remind everyone that Spokane will host the 2024 IEDC Future Forum. Spokane will be one of the smallest communities to host an IEDC conference over the last two decades and the first in the Pacific Northwest outside of Anchorage, Alaska. This will be fifty years after Spokane hosted the World's Fair, Expo 74. Spokane was one of the smallest communities to ever host a World's Fair. The conference will be a great opportunity to highlight the amazing things happening in our region on a national stage and we get to provide some direction to IEDC for this year's theme.