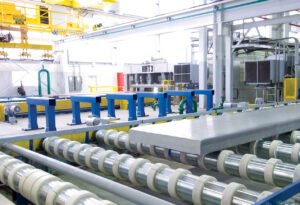 Kaiser Aluminum Corporation is a leading producer of semi-fabricated specialty aluminum products, serving customers worldwide with highly-engineered solutions for aerospace and high-strength, custom automotive, general engineering and other industrial applications.  The company's Trentwood facility, located in Spokane Valley, has been an important part of the community for seventy years.  The facility currently employs approximately 900 people working in shifts around the clock at the expansive plant, which is located on approximately 515 acres and includes 60 acres under roof.
The Trentwood facility is responsible for manufacturing aluminum rolled products which includes heat treated sheet and plate for aerospace and high-strength and general engineering applications such as structural components for commercial airframes and vacuum chambers for silicon chips. In the past decade, the facility has experienced significant growth in production, driven largely by the growth in the commercial aerospace order backlog and increasing build rates.
Kaiser Aluminum recently commenced a five-year, $150 million capital investment project at its Trentwood facility to further advance the company's cost and quality leadership position and to meet continued demand growth. The investments will focus on equipment upgrades throughout the process flow to reduce conversion costs and increase efficiency, further improving the competitive cost position on all products produced at Trentwood. A significant portion of the investment will also be focused on modernizing the legacy equipment and process flow for thin gauge plate to achieve KaiserSelect® quality enhancements for these aerospace and general engineering products. In addition, the investments will result in further expansion of Trentwood's manufacturing capacity.
Jack A. Hockema, CEO and Chairman stated at the time the project was announced, "Looking forward, we expect continued growth and an increasingly competitive environment in Trentwood's served markets…this project advances Trentwood's position as a world class facility for quality and cost efficiency."
Kaiser's investment and expansion will be highly beneficial for the aerospace, transportation and manufacturing business sectors throughout the Inland Northwest, as well as help maintain the Trentwood facility as a major competitor in the global aerospace supply market. Greater Spokane Incorporated continues to work collaboratively with Kaiser Aluminum to secure possible incentives for continued investment and growth at their Spokane operation. Kaiser's Kyle England says working with GSI provides them with an opportunity to strengthen Washington's vital aerospace supply chain, as well as play a role in the economic development of the Inland Northwest.