Get free entrepreneurial support at the Central Library
By Amanda Donovan and Mark Pond, Spokane Public Library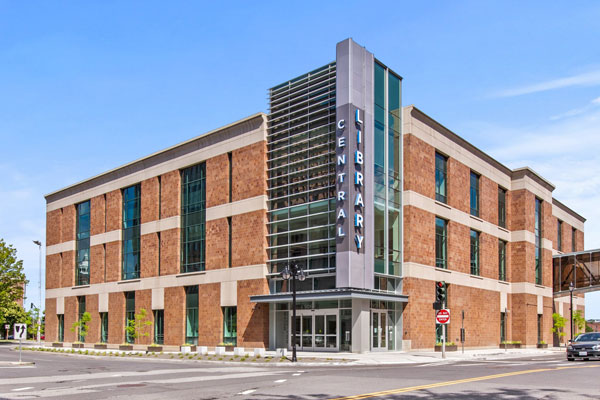 When the pandemic started Matt Mitchell was looking at the next twenty years of his life in an unfulfilling corporate role and realized it was time to make a change. With the idea to create a van conversion business, he needed a business plan but didn't know where to start. That's where Spokane Public Library and Business Research Librarian, Mark Pond, came in. Mark connected Matt with access to big data, usually only accessible by large corporations, to help guide Matt through writing a comprehensive business plan. Since then, Matt has landed his first client and converted his first van, all because free resources from the library set him on the path to owning his own small business.
"Startups are facing a big scope of risk, but I can throw mountains of data at that risk to help shrink it," says Mark Pond, Business Research Librarian at Spokane Public Library. "It's a win for them, it's a win for the library, and it's a win for the Spokane economy."
To help more small business owners and entrepreneurs reach their goals, Spokane Public Library created an entire space at the Central Library dedicated to offering programming and services to local entrepreneurs and the small business community. The Business Lab offers co-working space, classes, and one-on-one business research coaching and support by a dedicated business research librarian. Entrepreneurs and business owners can access more than 15 cutting-edge databases for free, including Statista, Pitchbook, RMA University, Morningstar, IBISWorld, LivePlan, and Business Source Complete. Spokane Public Library also boasts a Bloomberg Terminal – one of only two libraries in the country to offer access to this specialized computer software system.
The Spokane Public Library partners with Greater Spokane Inc. to bring you StartUp Spokane, which connects entrepreneurs to the resources they need to launch and grow a successful business. StartUp Spokane's JumpStart Event series features local entrepreneurs who share tips and advice on how to launch and grow a successful business.
If you want to start a business, StartUp Spokane and the Spokane Public Library's Business Research Librarian, Mark Pond, should be any aspiring entrepreneur's first stop to get connected with all things entrepreneurial around the Spokane region. Spokane Public Library has one of the best business reference collections of any public library in the nation. Get the info you need to launch or grow your business: demographics, industry trends, market research, and more.
Visit StartUpSpokane.com to get started.