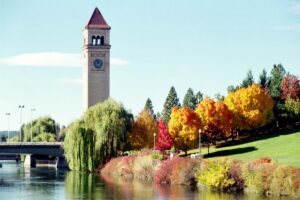 Spokane is a growing city and this growth is apparent in the job market. Spokane is generating numerous jobs in the business and professional sector. According to the latest "Best Cities Rankings" report on U.S. cities from New Geography, the Spokane-Spokane Valley MSA jumped to#17 for 2016 for white collar jobs in the mid-sized city category. This is up 28 spots from #45 in 2015 and makes Spokane the highest ranked mid-sized city  in WA state.
Spokane's high ranking the business and professional sector is an indicator of future economic growth. White collar jobs are are highly adaptable and much less vulnerable to disruption.
"The information sector may have glamour and manufacturing, nostalgia appeal, but the real action in high-wage job growth in the United States is in the vast realm of professional and business services. This is not only the largest high-wage part of the economy, employing just under 20 million people at an average salary of $30 an hour, it's also one the few high-wage sectors in which employment has expanded steadily since 2010, at more than 3% a year, adding nearly 3 million white-collar jobs."
New Geography generates its ranking system from a normalized, weighted summary index, which consists of: recent growth trends, mid-term growth, long-term momentum, current year growth, and the average of each year's growth rate. The rankings include all of the metropolitan statistical areas (MSAs) that the Bureau of Labor Statistics report monthly employment data from.
Find out more by visiting New Geography's website.