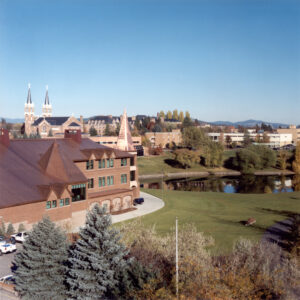 Gonzaga University and the University of Washington School of Medicine for recently welcomed an expanded class of 60 medical students in Spokane on the Gonzaga campus.
This class represents an increase of 20 students over the prior year, according to the Spokesman-Review. Paired with students in the second year of the program, 100 medical students are currently working toward their four-year degree in Spokane, in addition to those performing clinical rotations in their third and fourth years. Earlier this year, Gonzaga partnered with the University of Washington School of Medicine to form the Partnership for Health. This new collaboration hosts UW's multistate medical education program, which goes by the acronym WWAMI, noting the participation of Washington, Wyoming, Alaska, Montana and Idaho.  Beyond its multistate collaboration, WWAMI also plans to grow research opportunities in the Spokane region.
Spokane is quickly becoming a growing hub for medical education. WSU's College of Medicine awaits an accreditation decision for its new medical school program in Spokane. If received as hoped in October, its first class of students will begin in the fall of 2017.
The growth of both schools' medical education programs ties in with the growing importance of the healthcare and life sciences industries throughout our region. The healthcare industry currently employs around 20 percent of the Spokane region's workforce and represents our largest industry sector. Greater Spokane Incorporated's VISION 2030 initiative has the goal of making Spokane a hub for the region's health and medical sciences education as well as  life sciences research and commercialization, with a 20-year target of driving an annual $1.7 billion in economic impact and creating more than 9,000 new, higher-paying jobs.
The growth in medical education is critical in addressing our region's shortage of physicians, especially primary care physicians in the rural areas of Eastern Washington. VISION 2030 seeks to support both the expansion of four-year medical education and graduate medical education, or residencies, which are a strong factor in where a physician chooses to practice.
For more information on GSI's VISION 2030 initiative, visit GreaterSpokane.org/vision-2030 or contact VISION 2030 Project Consultant Anne Marie Axworthy.