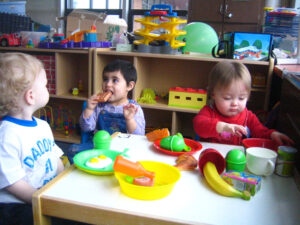 Overall, the 2015 legislative session was a great one for education. The legislature added $1.3 billion to K-12 education, reduced tuition at public postsecondary institutions, funded important capital investments in K-12 and higher education, supported advancement in STEM education, and made a $158 million investment in early learning.
At GSI we talk often about how education grows economies, with an important focus on K-12 and higher education. This year, for the first time, one of our legislative priorities was support of the Early Start Act because we believe that early learning is a smart investment. Quality early childhood learning and development set our future workforce on a trajectory to become successful, productive members of society. Research shows that for every dollar invested in high‐quality preschool programs, at least $7 is saved in future costs related to social services, remedial education, public safety and juvenile justice.  The foundation for success for each on our kids in established in the first 2,000 days – from birth to age five.
Our state's quality rating and improvement system, Early Achievers, is key to our support of the Early Start Act. Early Achievers connects families to quality early childcare programs and supports education and training for our childcare and preschool providers in effective early learning strategies so our youngest learners are prepared for kindergarten.
Education is one of the top criteria companies consider when looking to relocate or expand their business. To build and maintain the education pipeline and prepare a high-quality, technically skilled workforce, it is critical that we invest in the entire cradle-to-career pipeline.
GSI applauds and thanks the legislature for making these important investments in education – and in the future of our community.