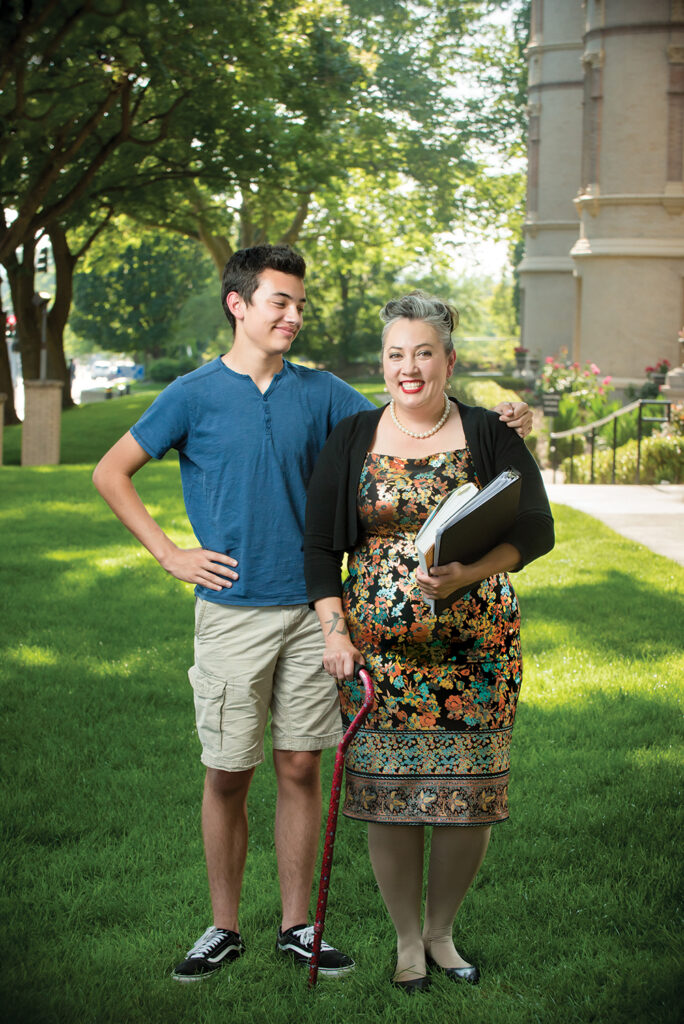 There's nothing easy about going back to college when you're working full time. It's even more difficult when you're working two full-time jobs. Just ask Yolande Collins, the mother of a 23 and 15-year-old.
Yolande has been a Superior Court Clerk for Juvenile Services, Spokane County Superior Court, for five years. She is also a chef at Mukogawa where her work includes 13-hour shifts on Sundays. She puts in well over 100 hours every week between work, classes, volunteering with the homeless, and studying.
What drives her determination to get a degree?
She wants to use her life experiences to help people on a deeper level. "Right now I'm in the courtroom, but I'm not hands-on. With a bachelor's degree, I can be a probation officer and make more of a difference."
Yolande also seeks financial security after the devastation of a very long, contentious divorce and custody battle, and a health crisis. She says that two jobs are taking a toll on her body, especially after suffering a stroke-like condition that left one side of her body weak and requires her to use a cane. "I can't wait to be able to support myself with just one job."
Last spring she achieved a huge milestone — her paralegal degree from Spokane Community College — and she is now working toward her bachelor's degree at Whitworth University.
Yolande is not taking the journey alone. She has support from her employer, Spokane County, through Greater Minds, a community collaboration of higher education and business led by Greater Spokane Inc. (GSI). The goal of this initiative is to increase the proportion of residents in Spokane County with high-quality certificates or degrees from 40 percent to 60 percent by 2025.
Spokane County, one of our area's largest employers, did not have an education attainment program until recently launching with Greater Minds. Says John Dickson, Spokane County Chief Operations Officer, "We all work in rapidly changing environments. Having a highly educated and innovative workforce enables us to better manage the complex issues we face and meet the expectations of taxpayers."
Greater Minds focuses on helping working adults return to school, and finish their degrees or certificates, unlocking opportunities for themselves and the region. This includes vocational and technical training, as well as 2- or 4-year degrees.
Employers need people with the right skill sets and education, but with a tight labor market, skilled workers are in increasingly short supply locally and across the country. Greater Minds is helping individuals succeed in their careers while supporting local businesses and the health of our economy. It's also a great business recruiting tool.
According to GSI Director of Education & Talent Meg Lindsay, "Talent is one of the most important criteria for site selectors, who are looking for the best cities and locations across the nation for business expansion. Increasing our education attainment percentage will help attract new employers to the Spokane region and increase our competitive advantage."
GSI's experience leading collaborative efforts and convening leaders from all sectors – business, government and education — is key to the success of Greater Minds and the continued growth of our local economy.
An important component of the initiative is the "Navigator" who assists businesses in setting up or strengthening their employee programs for postsecondary education, and who helps guide employees through the process of applying, registering, accessing financial aid, acclimating back into classes and studying, and dealing with the stresses of work and school.
"It often takes six months or more for employees to get their lives ready for the major commitment of going back to school, especially if they have a family," says Jodi Brant, GSI Education Attainment Navigator.
Despite all of her challenges, Yolande remains focused, upbeat and excited about her future. "I've had a lot of trauma in my life, but I choose to fight back with education."
For more information visit the GreaterMindsSpokane.org