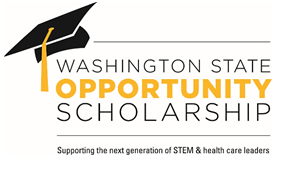 The Washington State Opportunity Scholarship (WSOS) was created by the Washington State Legislature in 2011 to help local students from low and middle-income families earn high-demand degrees and launch their careers in Washington. This scholarship addresses both rising tuition costs and a lack of local STEM talent prepared for industry demands in the state of Washington. Per the legislation that governs the program, the State matches private dollars raised by WSOS, including founding partners Microsoft and Boeing. To date, the program has raised nearly $95 million from the private sector.
This unique workforce development program is helping to put college degrees within reach to 1,450 students from across the state. The 2016-2017 awardees will receive up to $22,500 over five years along with additional skill-building and professional development support. Newly selected scholars come from every legislative district in the state. Fifty-percent are female, 64 percent identify as students of color, and an incredible 69 percent are the first in their family to attend college. All are pursuing bachelor's degrees in majors in the STEM, which consists of science, technology, engineering, math, and health care fields.
"These students represent the future of our state," said Naria K. Santa Lucia, executive director of WSOS. "We are laser focused on helping these students persist in their major, graduate on time and launch their careers here at home. We are delighted to meet them and champion their success over the coming years."
Last fall, the Spokane STEM Network partnered with WSOS to promote the program and increase the number of applicants. The 65 scholars selected from Spokane this year, are eligible to receive up to a total of $1,462,500 in scholarships for our region.
"Congratulations to all of these students," said Alisha Benson, Vice President of Education and Workforce, Greater Spokane Incorporated and Executive Director of Spokane STEM. "This is an incredible investment in their education. These students are our future workforce and community leaders and WSOS create access and opportunity for them to compete in our STEM and health care based economy.
The projected skills gap and lack of qualified candidates may result in up to 50,000 unfilled jobs in the STEM and health care fields by next year. The students selected for this scholarship both today and in the future will help to fill the gap with their applicable degrees and experience. So far, more than 5,400 students have received support from WSOS and nearly 1,500 have graduated since the program began. The Washington State Opportunity Scholarship is a growing program that will help to not only put jobs in the hands of students, but also provide the Spokane area and the rest of the State with an educated workforce in the areas with the highest demand.