Students from across the Inland Northwest gathered at the WSU Spokane campus earlier this month for a special event, which included a hands-on, practical STEM lesson with Intuitive Surgical's da Vinci Surgical System.
The event, created by Rockwood Health System in partnership with WSU and Greater Spokane Incorporated, hosted nearly 300 students across Nov. 3-4. Students were on-site for a two-hour visit, with many coming from around the Spokane region, and as far away as Oroville, Wash., and Enumclaw, Wash.
"The event was created to talk to the STEM students in our community to show them what sort of resources are available to them in their community, with particular regard to education," said Jaime Ziebert, Director of Robotic Surgery at Deaconess Hospital and organizer of this year's event.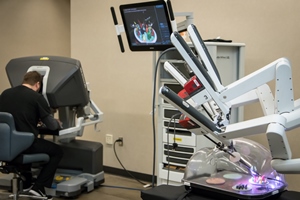 Ziebert pointed out that WSU's Elson S. Floyd College of Medicine recently received preliminary accreditation, and that Gonzaga University's partnership with the University of Washington expanded this year. The combination of education and available surgical technology in the Spokane region is continually growing.
"Most people think you need to go to Seattle or Portland to get that level of technology, but the fact is we have it right there," she said, noting that if students want to go into the medical field, Spokane is the perfect place for their education.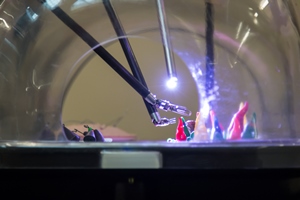 The da Vinci Surgical System uses four robotic arms to aid surgeons during an procedure, mimicking and even going beyond the motion and abilities of the human hand. A magnified vision system provides surgeons with a 3D, high-definition view inside a patient's body. To see more about the robot, visit the da Vinci Surgery website.
Students not only took turns operating the da Vinci robot, but they could test their speed and accuracy on a separate simulator. Surgeons use this to improve their performance in the operating room, and hone certain techniques. At the event, students had a friendly competition to see who could get the highest score for their visit.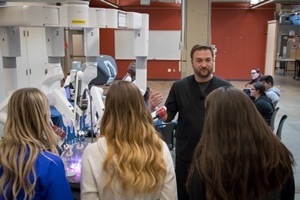 In all, the event proved to be a highly impactful time for students, who received a practical lesson in STEM applications that enhance material taught in the classroom.
"I think it shows the students that what they're doing now in school can move them into their future," Ziebert said. "It shows them that link. It's not just about fitting in the classroom, doing this experiment. The experiment could be their future, or where they're going next."