Fairchild Air Force Base (FAFB) is one of the largest air-refueling tanker bases in the United States Air Force (USAF), Air Mobility Command (AMC). By 2020 there will be 61 KC-135 air refueling tankers assigned to FAFB and the base will be home to more than 6,000 airmen. The origins of the base can be traced back to 1942 when local citizens raised nearly $125,000 to purchase a 1,400 acre tract of land 12 miles west of the city to encourage the War Department to locate a base there. As the base evolved in size and mission – from repair depot, to bombardment wing for the Strategic Air Command, to Strategic Aerospace Wing – its close connection to the region remained constant. Mutual support and cooperation between the base and local community leadership remains fundamental to the relationship between Fairchild and Eastern Washington today.
Celebrating its 75th anniversary in 2017, Fairchild has grown to become a Center of Excellence in Air Refueling. The base is home to the 92nd Air Refueling Wing and the 141st Air Refueling Wing of the Washington Air National Guard, in a classic association. Two wings flying KC-135 tankers and one flying RC-26B reconnaissance aircraft support worldwide military missions, refueling fighter, bomber, reconnaissance, and airlift aircraft, as well as providing rapid and reliable passenger and cargo airlift.
Fairchild maintains a stellar reputation while playing a pivotal role in national defense, offering critical support to national and global operations, including Noble Eagle, Enduring Freedom, Iraqi Freedom, New Dawn, and Inherent Resolve. In recognition of Fairchild's superior performance, the 92nd Refueling Wing won the Omaha Trophy, awarded annually by US Strategic Command to recognize operational excellence, in 2016 and again in 2017, the first time in the trophy's 46 year history it has been awarded in consecutive years to the same wing.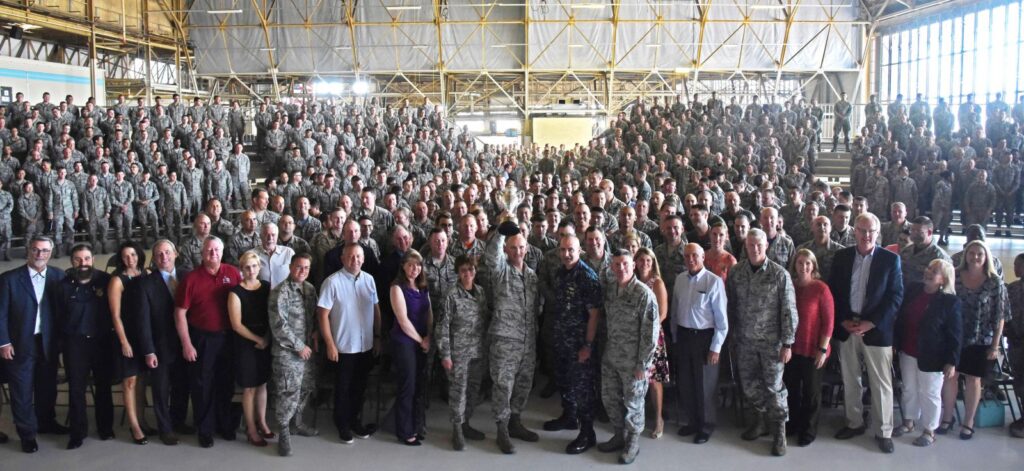 Additionally, Fairchild is home to the USAF's only survival school, preparing over 12,500 aircrew members and SERE instructors annually. The 336th Training Group consists of the USAF Survival, Evasion, Resistance, and Escape (SERE) School and the 36th Rescue Flight. In addition to on-base Survival School facilities, over 500,000 acres of rugged mountains north of the base in the Colville and Kaniksu National Forests are used for the wilderness survival simulations.
Support to Military & Veterans
The unwavering support offered by Eastern Washington to its base, airmen, and their families can be seen in a number of ways. Fairchild has won the Abilene Trophy, awarded annually by Air Mobility Command to the community that is most supportive of its local Air Force Base, three times since 2000. No other base has won the trophy more times in that span. Second, a number of local organizations offer support to military members and veterans. One such organization is Operation Spokane Heroes which offers discounted goods, services, and emergency financial assistance to veterans and current service members in need. 
Forward Fairchild is a committee of Greater Spokane Incorporated that convenes business, community, and military leaders from all branches to maintain strong relationships with the base, provides advocacy support, and works with the Washington Military Alliance on state-wide Department of Defense issues. The Honorary Commander Program matches approximately 40 business leaders with officers at Fairchild to introduce the officers to Spokane and the surrounding region. The Lilac Festival is a weeklong celebration of our armed forces taking place every May, culminating with the annual Armed Forces Torchlight Parade, the largest in the nation. The Spokane Veterans Memorial Arena, built in 1995, was named in honor of our area veterans. It hosts a Veterans Day Ceremony each November and several Veterans Memorials.