At the 19th Annual Economic Forecast, presented by the Spokane Journal of Business and GSI, Dr. John Mitchell, Principal of M&H Economic Consultants, and Dr. Grant Forsyth, Chief Economist of Avista Corp., provided insight into our local, regional, and national economies. Their analysis covering trends from the last several years, and what to expect in 2017 provides businesses with tools needed to plan for the next year. Steve Scranton, Washington Trust Bank Chief Investment Officer and Economist, served as the moderator for this year's event, and fielded questions from the audience.
Thank you to everyone who attended the Economic Forecast and made it a success this year!
PDF slides from presentations by Dr. Mitchell and Dr. Forsyth are available below. These presentations are available for a limited time, and will be removed Tuesday, Nov. 22.
Dr. John Mitchell's presentation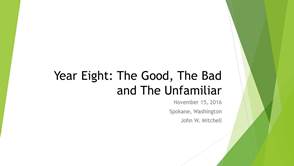 Dr. Grant Forsyth's presentation