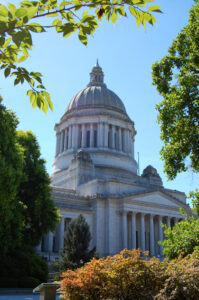 Around 100 representatives from businesses and organizations throughout the Spokane region flew to Olympia Feb. 1-3 as part of the annual Olympia Fly-In, an event partnership between Greater Spokane Incorporated, the Greater Spokane Valley Chamber of Commerce, and the West Plains Chamber of Commerce.
Representatives from businesses and organizations of all sizes throughout the Inland Northwest advocated on behalf of our region to provide a unified voice for our legislators. The delegation met with a number of legislators and one of the Washington State Supreme Court justices.
You can read the Day 1 and Day 2 recap for a full rundown of each day's events, or read the summary below.
Much of the conversation focused on our 2017 State Legislative Priority Agenda, which includes policies and funding requests for a number of projects throughout our region.
Education, health care, and the environment all played an important role in the daily discourse with elected officials, revealing difficulties and opportunities that could arise throughout the legislative session. Funding for education, as stipulated by the McCleary decision, remains a major item for legislators as the deadline to fully fund K-12 education approaches in 2018.
Career Technical Education also proved to be a major topic during our discussions, as legislators hope to restore the program's funding to what it received prior to 2012.
Related to both health care and education, our delegation emphasized the importance of the Spokane region retaining funding to support two medical education institutions.
Thank you to Sunshine Disposal & Recycling for being our Olympia Trip sponsor. The University of Washington was our Orientation Lunch sponsor, and our Grand Reception sponsor was Washington State University Health Sciences Spokane.
Thank you to our Olympia Fly-In partners, helping us create something greater for the Spokane region: the Greater Spokane Valley Chamber of Commerce, and the West Plains Chamber of Commerce.