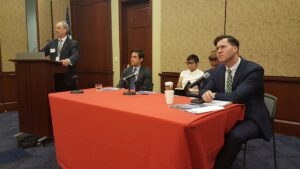 Around 50 delegates traveled to Washington, D.C. to advocate on behalf of the Spokane region, May 2-5, meeting with numerous elected representatives and federal personnel. This annual event is held in partnership with the Greater Spokane Valley Chamber of Commerce and the West Plains Chamber of Commerce. Most of the events took place Wednesday and Thursday, while Congress was in session.
Wednesday's meetings started with a breakfast featuring the senior staff from Washington's members of Congress. Joining GSI's delegation were: Ian Field, Chief of Staff to Rep. Cathy McMorris Rodgers; Travis Lumpkin, Chief of Staff to Sen. Maria Cantwell; and Livia Lam, Legislative Director for Sen. Patty Murray. Discussions for the meeting covered a wide array of topics important to the Spokane region and industries, including growing operations at Fairchild Air Force Base, funding much-needed infrastructural improvements, the need for increased Graduate Medical Education funding to Spokane to bring more medical residencies and address Spokane's physician shortage, among other topics.
Following the senior staff breakfast, the delegation met with Kentucky Rep. Brett Guthrie, the Chairman of the Education and Workforce Committee's Higher Education and Workforce Development Subcommittee. Guthrie is working to bring back access to year-round Pell Grants, as well as adequate funding for the grants. Pell Grants are necessary to help low income families have access to higher education, and year-round grants are particularly helpful to parents seeking to finish their education in as timely a manner as possible.
Rep. Derek Kilmer from Washington's 6th Congressional District also met with GSI's delegation. Kilmer currently serves on the Appropriations Committee, and has a background in economic development. He provided a great deal of insight into how to make Spokane a competitive area that allows businesses to thrive.
To round out the morning, the delegation met with Washington's 5th Congressional District Rep. Cathy McMorris Rodgers. During her meeting with GSI's delegation, McMorris Rodgers reiterated her support for Fairchild Air Force Base. GSI advocates on behalf of Fairchild Air Force Base in favor of preserving its current and future mission, protecting it against encroachment. Though the base did not receive the new KC-46A tankers, she has worked to ensure that Fairchild continues to grow its operations and remains competitive with allocations of future aircraft.
The lunch session for GSI's delegation, sponsored by Washington State University, featured Sen. Maria Cantwell. Cantwell is the top Democrat on the Senate Energy and Natural Resources Committee. With her position on the committee, she is working on legislation that will support the increase of the production of cross-laminated timber. This legislation will allow for increased incentives for using the product, and will create new markets for wood products and help support healthy forests.
Rep. Denny Heck from Washington's 10th Congressional District met with GSI's delegation in the afternoon. He spoke about the importance of the Export-Import bank, and the problems that have come from not having a fully-staffed board of directors. Heck said the bank has the potential to grow trade, a necessity for trade-dependent Washington State and the Spokane region. Moreover, he spoke to the importance of having sound trade agreements, which also provide a great benefit to local businesses.
The final meeting of the day was with Sen. Patty Murray. Like Rep. Guthrie, Murray focused on education and expressed the need to maintain and expand the Pell Grant program, providing access to higher education for all families. She also expressed support for Washington's military and her desire to help Fairchild grow its operations.
The evening finished with a reception at the New Zealand Embassy with Tim Groser, New Zealand Ambassador to the United States. Like Washington, New Zealand is very dependent on trade. Groser highlighted the importance of having beneficial trade agreements in place to grow the economies of Washington and New Zealand.
To learn more about points made during the Fly-In, view GSI's 2017 Federal Agenda. More information about the Fly-In can be found online, and in our Day Two recap. To save your spot for next year, contact our events team at events@greaterspokane.org.