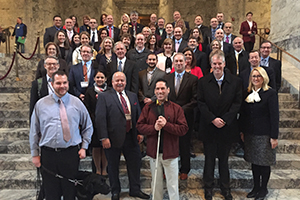 Last month, business, civic, and education leaders ventured to Olympia, Wash., to advocate on behalf of the Spokane region in our annual Olympia Fly-In.
Partnering with the Greater Spokane Valley Chamber of Commerce and the West Plains Chamber of Commerce, this event allows businesses to have a strong voice in our state's legislature, providing face-to-face interaction with legislators. Advocacy is an important part of GSI's foundation, and aids our priority strategies to develop business and improve the economy throughout our region.
During our visit to Olympia, many policies included in our 2018 State Legislative Priority Agenda were included in the state's capital budget. A letter from GSI CEO Todd Mielke provided some insight into what items were included in our state agenda. Take a look at our trip recaps below to learn more about each day, and some of the milestones in this trip.
Day 1 recap: Extended discussions on education and environmental issues
Grand Reception with Lt. Governor Cyrus Habib
Supreme Court Justice González provides insight into Hirst and McCleary decisions
Day 2 recap: Capital budget and Four Corners session
The D.C. Fly-In, which takes place April 24-26 this year, will feature a similar structure, allowing community and business leaders to visit our federal representatives in Washington, D.C. For more information on our Government and Regulatory Affairs projects, visit GreaterSpokane.org/government-regulatory-affairs.