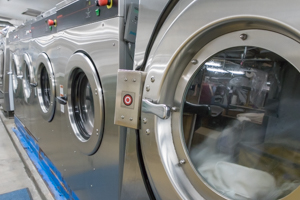 Sorting through 600 pounds of dry cleaning each day is an impressive feat; sorting through more than 40 pages of government contract applications and follow-up billing paperwork is even more impressive.
Hi Bum Kim, owner of Spokane's Beacon Services, does both.
Kim, his wife Yonae, and his family immigrated to the U.S. in 1974 from South Korea to achieve a better life. Starting with no money and unable to speak English, Kim started working as a janitor, eventually working to build his own janitorial services. Fast forward several years later, and Kim was able to purchase Beacon Services in 1986. Since then, the business has grown throughout the Spokane region, hiring more employees and opening multiple locations to serve customers.
In 1998, Beacon updated their equipment and the company fully invested itself to become the first dry cleaner in Washington state to use new environmentally friendly dry cleaning machines. The company also started using the environmentally friendly dry cleaning solvent, DF 2000, which is healthier for employees, the environment, and generates less waste.
Continuing its history of being environmentally friendly, in 2011 Spokane EnviroStars certified Beacon for having policies and practices that reduce waste. It remains the only dry cleaner in Spokane to receive the certification. Additionally, the Spokane Regional Clean Air Agency recognized Beacon with the Clean Air Award and Environmental Achievement Award in 2012 and 2014, respectively.
In 2015, Beacon Services discovered GSI's Procurement Technical Assistance Center (PTAC), a government contracting program of GSI. With the help of Jessica Kirk, Eastern Washington PTAC Office Manager and GSI staff member, Kim put together a bid for one of the government entities in Spokane and recently renewed an existing contract.
"If there's anything I don't understand, she helps," Kim said of Kirk's assistance through the PTAC office. Prior to 2015, he was the sole person putting together bids and following up with billing paperwork.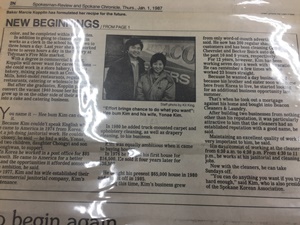 In addition to working with the PTAC office, Kim credits the Spokane-area Small Business Association for helping him succeed here in Spokane. His goal of being successful stems from his desire to provide a good example for his children, allowing them to learn from his work ethic, and his mission to deliver good customer service.
"I have to show my children that I do good, so they can follow me," Kim said.  "I like to provide good service to my customers."
That desire of setting an example for his children has made an impact on others working with Kim.
"Kim truly appreciates doing business in the Spokane area," Kirk said. "He genuinely cares about his employees."
Last year, the Eastern Washington PTAC office helped businesses in Eastern Washington win 978 federal contracts, totaling more than $39 million to create 780 jobs. With 12 districts across Washington state, the PTAC program secured 3,200 contracts for businesses in the 2015 fiscal year. The value of last year's contracts came to $542 million, and marked a $100 million increase from FY2014.
If you are interested in seeking a government contract for your business, or obtaining guidance on solicitations or bidding on federal contracts, visit GreaterSpokane.org/government-contracting. You can learn how to do business with some of the largest agencies and contractors in the Spokane area at our Meet the Bigs event, Tuesday, Feb. 28. Hosted by GSI's Eastern Washington PTAC and Fairchild Air Force Base, this free event gives you access to prime contractors, and allows you to receive information on sub-contracting opportunities.