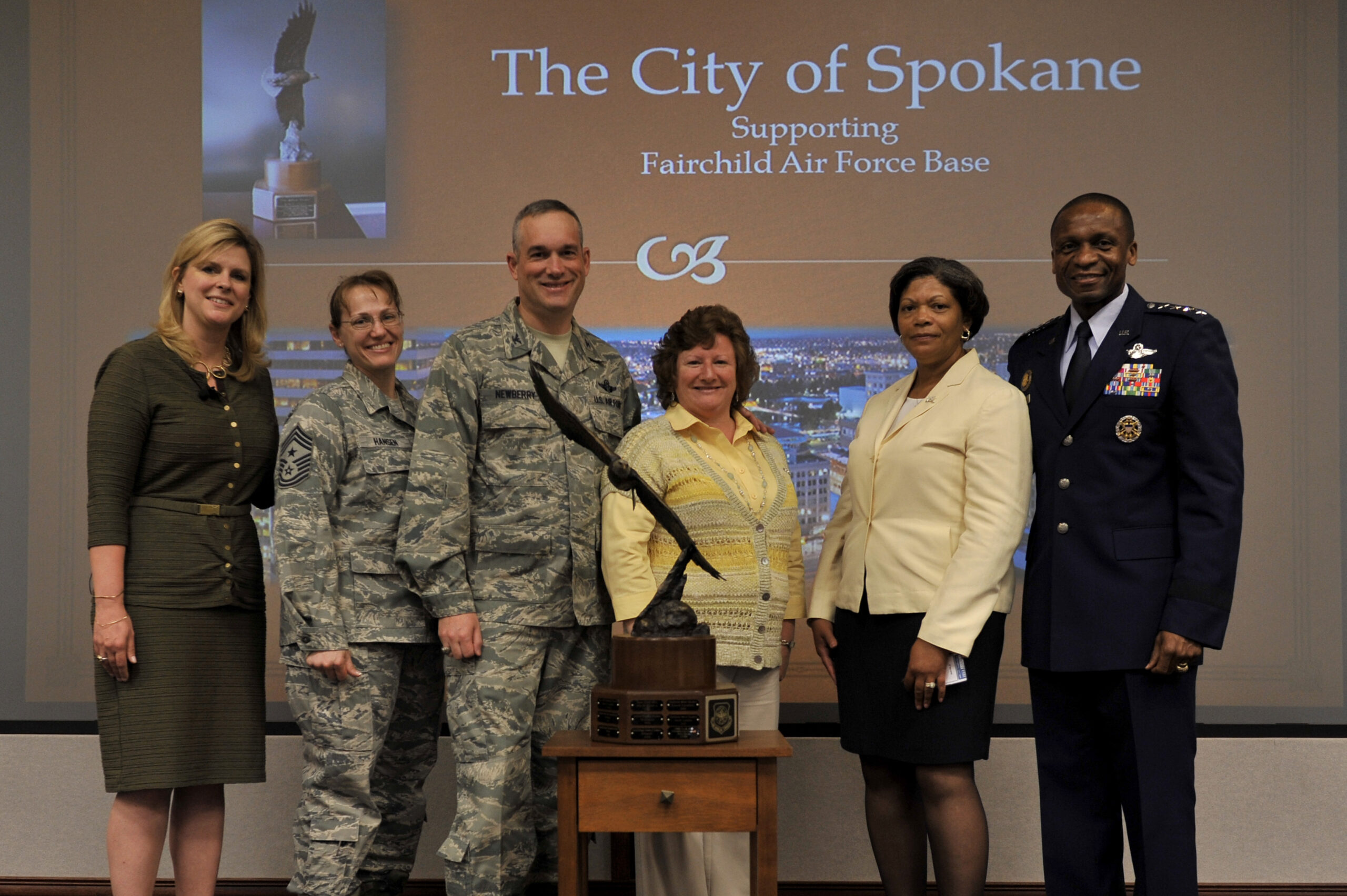 Last week we announced that the greater Spokane community was awarded the Abilene Trophy for superb support for Fairchild Air Force Base.
The trophy is presented annually by the Abilene Chamber of Commerce and the United States Air Force Air Mobility Command. Spokane won the trophy in 2000 and 2006 as well. We coordinate the award entry each year.
So how does the Spokane area support Fairchild Air Force Base?
Support for our base goes back to the 1940s when Spokane County, the City of Spokane and the Spokane Chamber of Commerce raised enough funds to purchase the land that Fairchild sits on today and convinced the War Department to build an air depot.
The first thing that comes to mind when you think about supporting Fairchild is the Armed Forces Torchlight Parade. While not Air Force-specific, the parade features airmen from Fairchild and honors all branches of our military.
A lot of support comes from Operation Spokane Heroes (OSH), a great organization that assists families of military members who are deployed.
Our Work 101 program – which matches high school students with businesses for internship-like experiences – also supports Fairchild. Last year, some area students interned at Fairchild's health clinic. The base was instrumental in convincing other health care companies to jump on board and accept high school interns.
The Survival, Evasion, Resistance and Escape (SERE) School is also supported by the community by the more than 500,000 acres of rural roads and trails that are loaned to Fairchild to conduct its survival training. The survival school has other support from community organizations as well, like the Spokane Police Department.
Businesses that employ members of the Air National Guard support Fairchild by allowing their employees to deploy and come back with a job waiting for them.
Budget cuts hit the military hard in 2013, and Fairchild wasn't immune. Through partnerships with the public, Fairchild is able to continue its mission through its P4 Initiatives, which are four initiatives where Fairchild personnel partner with organizations in the greater Spokane area to save on resources.
When a KC-135 with a Fairchild crew on board crashed last year in Kyrgyzstan, tragically killing the three airmen aboard, the Spokane community came out in support of the base and the families of the fallen crew. The community came out for the memorial service and provided meals for mourners at Fairchild.
The community has taken steps to protect the base from encroachment threats as well by creating land-use agreements around the base, most notably the Joint Land Use Study (JLUS).
There are many other ways the community shows its support for Fairchild, like offering discounts to military families at Spokane Indians and Spokane Chiefs games, for example. We mentioned just a few of the ways the Spokane area supports its base and we know it'll continue to show that support for many years ahead.