2017 Relocation Guide Feature:
Steve Hauschild, Market Leader/Director of Business Banking, BECU
The 2017 Relocation Guide features our vibrant and innovative region, including the facts, flavor and faces of the Spokane community. Thanks to the Journal of Business for this great publication, to our writer Nicole Skinner and photographer Red Mammoth Studios.
We will be featuring over the new couple of months some of the people that call Spokane home. To pick up free copies of the guide, contact Nancy Vanni in our office at 509.321.3601 or nvanni@greaterspokane.org. 
Production of the 2018 Relocation Guide is also underway. Approximately 8,000 are distributed throughout the U.S. If you are interested in advertising, contact the Journal of Business at 456-5257.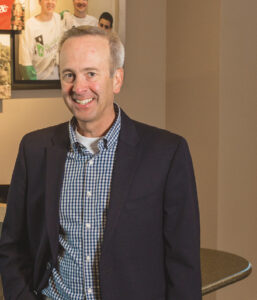 Steve Hauschild, Market Leader/Director of Business Banking, BECU
Hometown: Spokane
Place of Residence: Spokane Valley
Occupation: Market Leader/Director of Business Banking, BECU
As a lifelong resident, Steve Hauschild knows Spokane from every stage of life. He says, "We are so blessed with so much here in our area and with the accessibility of everything." Steve and his family enjoying soaking up every single opportunity of our four-season climate. He shares that, "With all four seasons, when you get tired of one … the next is just around the corner."
He credits his sincere appreciation for the seasons to farming. He grew up on a local farm which his family still runs today. Now Steve and his family enjoy taking advantage of each season by camping, snowshoeing, kayaking, camping, golfing, taking in theater performances, and music festivals, like the "Cowboy Gathering" in nearby Ellensburg. He laughs, "There really is no lack of things to do. It's the perfect place to raise a family and experience the outdoors and build community."
Steve notes that Spokane's also a great place for businesses. He's part of the team that is leading the expansion of BECU in Spokane and Eastern Washington.  BECU is the state's largest credit union with over $15 billion in assets and 1 million members and is now offering a complete suite of financial services to its members in the Spokane area.  "Businesses are drawn to Spokane and the region because of our exceptional workforce, with a 'can do attitude' and a strong work ethic. Spokane employees are well trained, engaged and committed to their companies and the community."
Steve commented about how companies and employees are also generous in sharing their time and talents within the community. Steve enjoys contributing to SNAP and Junior Achievement through his employer BECU. "One thing you'll find here is that people are investing their lives in our community," says Steve. For him it really captures the essence of our area, "Seeing people thriving and appreciating the community. It's what we're all about."
His praise for our community could rival that of a carefully crafted commercial, the only difference is that Steve is really just speaking from the heart. He's lived here his entire life and knows firsthand that the Spokane area is special. From affordable housing to the engagement of the educational community, to the accessibility of a quality lifestyle, he says, "We have so much to stand tall about."