The 2018 Relocation Guide published by Greater Spokane Incorporated, in partnership with the Spokane Journal of Business, is the region's premier source for neighborhood information throughout our region.
Copies of this guide are available at GSI throughout the year. Businesses throughout our region display the magazine in their lobbies, and provide it to guests visiting from out-of-town.
Michelle Girardot is one of the faces of our region, and made her home in Spokane for key reasons. Read about her story below, and pick up a copy of the 2018 Relocation Guide to learn more about our region. Visit our office or send an email to info@greaterspokane.org to get your 2018 Relocation Guide!
—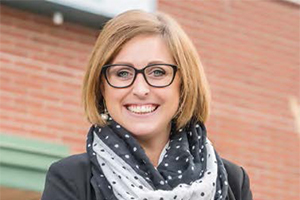 Michelle Girardot, CEO of Habitat for Humanity – Spokane
Hometown: Spokane
Current Residence: Perry District
Occupation: Chief Executive Officer of Habitat for Humanity – Spokane
Michelle Girardot and her husband are often trying to recruit out of town friends to Spokane. She says, "Spokane's the perfect size for those who want to make a difference and be a part of a strong community." While Michelle grew up here, she did leave for about 10 years and spent time in the Bay Area.
But her love for Spokane and the fact that it's a great place to raise a family brought her back. "Here I have an easy commute, affordable activities, vibrant arts scene, and the opportunity to really make a difference."
She also likes the friendly, approachable vibe that Spokane has. "It's very welcoming. You can say hi to anyone walking down the street or ask for directions."
As a leader of one of the area's most impactful non-profit organizations, Michelle gets to see a perspective of the community that many do not. "People make it a priority to be involved," she says, "It's easy to get in touch with people. I feel like Spokane has a big heart and the community always wants to help their neighbors in need."
Habitat for Humanity has more than 10,000 volunteers per year that come together to help empower families who are striving to become more ingrained citizens through the opportunity for home ownership. "Our community is unique. If we need help on a project, we send out a call to action and volunteers are there ready to help. The dedication is inspiring."
"Spokane is a great place to put down roots and Habitat for Humanity helps people do just that," she says,  "and what I love about our organization is that often volunteers come to a project with the expectation that they are going to help change someone's life … when in reality, it is their life that becomes changed as well."
While leading Habitat for Humanity is Michelle's occupation, she notes, "Habitat is more of a lifestyle for me. It's my passion that consumes me, not just a job. I love building community."
In her free time Michelle enjoys going to the many local music festivals (Volume being her favorite), dining at local foodie restaurants such as Ruins, and spending time outdoors with her family.
Visit habitat-spokane.org to learn more about Habitat for Humanity Spokane.