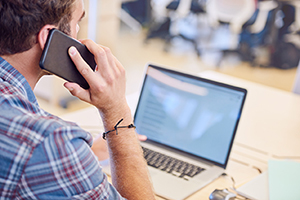 January is National Mentoring Month, honoring individuals who help bring up the next generation. Mentoring takes on various forms, and in Spokane, a special business mentor program through Startup Spokane, a program of Greater Spokane Incorporated, is helping the next generation of entrepreneurs get their business up and running.
Mentor Connect is just one way Startup Spokane helps local entrepreneurs connect with business leaders and innovators, sharing a wealth of knowledge throughout our region. The program launched in October last year and currently has around 20 active mentors.
Richard Repp, principal with Witherspoon Kelley, has served with the program since its inception, viewing it as an opportunity to pay it forward.
"I have benefited from some great mentors in my career and I consider it a duty and an honor to pay it forward and help others however I can," he said. "I view my participation as an extension of the efforts that I and a number of other members of the business community are making to build a supportive entrepreneurial ecosystem for scalable startups in our region."
Repp noted that it's important for businesses to strike while the iron is hot, due to a number of factors, including funding availability and a competitive marketplace. With the connections provided through Mentor Connect, entrepreneurs are able to develop their business idea with years of experience guiding them along the way. Mentors can even refer entrepreneurs to another mentor in the program, helping to create the supportive ecosystem Repp sought when joining the program.
For Michael Ebinger, Director of the WSU Center for Innovation, getting the business community connected with ideas from entrepreneurs was an important reason to take part in the Mentor Connect program.
"There seemed to be a big gap with what people with pretty big ideas had in mind and what some of the business community had to offer," he said. "Trying to get those two connected was the goal from the beginning."
Ebinger said the mentoring process allows entrepreneurs to come in and get a feel for the level of work required to start their business.
"My only prerequisite is that someone comes in with an idea," Ebinger said.
If entrepreneurs have that idea in mind, they can move forward to see if their business addresses a customer need. Larger discussions follow from the questions surrounding who customers are, and how a business could address their need.
Along the way, however, challenges arise and entrepreneurs will more than likely be asked to consider a different approach to their business idea. That requires humility and an open-minded approach to solving a customer's need once the business is up and running. Being nimble and open-minded goes a long way in the Mentor Connect program.
"The best entrepreneurs are the ones that can honestly assess their strengths and weaknesses, and then are humble enough to integrate others into their team to supplement their weaknesses," Repp said.
April Needham, Startup Spokane Community Manager, said the organization helps convene existing business talent in the region to help beginning entrepreneurs find their footing.
"We really try to own that program, and vet both sides of that equation," she said, referring to how Startup works both with mentors and entrepreneurs seeking assistance. The organization meets with both parties separately, and can then pair one to another in a match meant for success.
GSI, through Startup Spokane, helps local entrepreneurs launch their business and grow into a successful company. Whether it's providing one-on-one assistance, coworking space to develop ideas, or events to engage the startup community, Startup Spokane connects our region's talented business community with those looking to start their own business. The Mentor Connect program is open for any beginning entrepreneurs seeking a mentor. To join the Mentor Connect program, visit StartupSpokane.com/mentorconnect.
To learn more about National Mentoring Month, visit Mentoring.org.