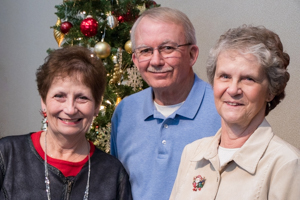 As the year comes to a close, it also marks the beginning of retirement for three Greater Spokane Incorporated staff members. Although two of our retirees aren't leaving us immediately, we'd like to share some of what they do to make GSI, and our region, a better place. Join us in thanking these members of our wonderful team for their dedication to the job!
Gloria Anderson
For more than 48 years, Gloria has called GSI and the chamber of commerce home. She started in June of 1968, and spent time in many different roles within the organization. For the last several years, she's served as our Accounting Coordinator, handling accounts payable and accounts receivable. Along with Myrna O'Leary, she provided many of the office holiday decorations you'll see in our building throughout December.
"I'll miss the people," she said, "I'll miss knowing what's going on firsthand in the community."
One of her most memorable moments while on the job was Expo '74, and all that it had to offer. Not only did it revitalize Spokane, it also made for a busy time at the chamber of commerce.
"We got to tour the site and see all of the programs. Each day for lunch we'd go and see what's happening," she said.
Her advice for us is simple, "Enjoy what you've got, and go with the moment. It all changes so fast."
Gloria isn't slowing down in retirement, and plans to do plenty of traveling in the months ahead, including a long-awaited cruise to the Bahamas. With various hobbies and time spent at one of the lakes in our region, she's excited for this next step in life.
Myrna O'Leary
The AgriBusiness department at GSI is an important part of our role as the region's largest business development organization. Myrna O'Leary has been with GSI since 1988, handling all things agriculture for our region. Along with her army of more than 100 volunteers, she's responsible for putting on the largest annual trade show in the Inland Northwest: the Spokane Ag Expo and Pacific Northwest Farm Forum. Next year, the Ag Expo will run from Feb. 7-9 and celebrate its 40th year, its last with Myrna at the helm.
"The highlight every year is the show, because you plan it all year long. It's like a wedding," she said. "You plan all year round, and then it's there. From the time we have combines coming down Division Street to when they leave, going down Spokane Falls Boulevard, it's a sight to see."
Each year, the Ag Expo occupies more than 120,000 square feet at the Spokane Convention Center, includes more than 300 vendors and exhibits, and draws businesses and attendees from across the Inland Northwest. With the various aspects of the show all running at once, it's quite the undertaking.
"There is never a dull moment," Myrna said.
While her retirement date is somewhat flexible, Myrna said she will be able to pursue some hobbies and plans to take on some part-time work to keep busy.
Michael Adams
As the Database Coordinator for GSI, Michael Adams is in charge of the management and maintenance of our membership database, providing statistical reports and sending some communications to our members. Michael started at GSI in January of 2010, when the position was mainly dedicated to working with the membership department. Now, Michael is an integral part of gathering information for departments throughout the organization regarding membership and communications.
"I will most of all miss working with the most talented group of people I've ever worked with," he said. "The staff here, the people who come in, are smart, knowledgeable, and totally dedicated. It's really a good, good group of people."
Of all the things he's seen at GSI during his tenure with our organization, Michael said he's especially proud of watching people develop and grow from their first day on the job into who they are now.
Michael is aiming for a January 2017 retirement date, and looks forward to some relaxation time. He plans to volunteer with Meals on Wheels and other charitable organizations in our region. He'll be able to continue his hobby of Navajo rug weaving, something he picked up from his dad, a master weaver who lived in Arizona.
"I sort of learned from him," Michael said. "It's a fun creative endeavor."