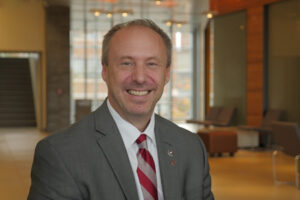 Wednesday, Oct. 19, Washington State University announced the preliminary accreditation of its Elson S. Floyd College of Medicine, enabling the university to start recruiting its highly-anticipated inaugural class of medical students in the fall of 2017.
The accreditation marks the initial fulfillment of a multi-year vision first laid out by the late WSU president Elson S. Floyd. Full accreditation for the medical school is expected in 2020.
"We congratulate Washington State University's work and dedication in bringing the Elson S. Floyd College of Medicine to receive its preliminary accreditation. This marks a new chapter in our region's strength as a center for medical education," said Greater Spokane Incorporated CEO Todd Mielke.
In a recent conversation with GSI, Dr. John Tomkowiak, Founding Dean of the Elson S. Floyd College of Medicine, shared that WSU submitted more than 1,000 pages of documentation for review by their accreditors, the Liaison Committee for Medical Education. A four-day site visit in June 2016 included more than 100 faculty and stakeholders in the process.
"The real opportunity is to build this medical school from the ground-up," Tomkowiak said. "You don't have many opportunities to do that at a tier-one research institution."
Tomkowiak noted that Spokane has the second-largest hospital system in the state and very seasoned healthcare practitioners from every level of professional practice.
"We want to bring the opportunity to every potential student in this state to go to medical school here, and hopefully practice in the state when they're done," Tomkowiak said.
The Spokane region is quickly becoming a center for health and sciences medical education. Combined with the University of Washington School of Medicine's medical education and research partnership with Gonzaga University, which now hosts students in the WWAMI (Washington, Wyoming, Alaska, Montana, Idaho) medical education program, the opportunity to develop the new WSU medical school strengthens the foundation for strong economic growth for the region.
It all fits in with GSI's VISION 2030 initiative, which promotes health and medical sciences education, research, and business development in the Spokane region, resulting in a robust health and life sciences industry. This initiative is the single largest economic development opportunity for our region, and reflects a projected $1.7 billion annual economic impact and more than 9,000 new jobs for our region by 2030.
A study performed by Tripp Umbach in 2016 provided a business development strategy for the region to achieve the economic impact and job growth projections, which focuses heavily on developing an innovation corridor from the University District to the South Hill.
The Spokane region is poised for strong growth due to its diverse array of industries. That diversity allows our region the opportunity to take advantage of four key industry sectors to complement a focus on healthcare: Health Informatics, Biopharmaceutical & Diagnostics, Aerospace, and Precision Agriculture. With 1.5 million people in our region's urban and rural communities, Spokane can attract companies as a hub for key development, piloting, and testing in the life and health science technologies and applications. Our region not only has a depth of knowledge and resources to support a strong health and life sciences sector, but we also have the ability to create cross-competencies with other industries, like aerospace, for challenges facing the healthcare industry.
For more information on VISION 2030, visit GreaterSpokane.org/vision-2030.