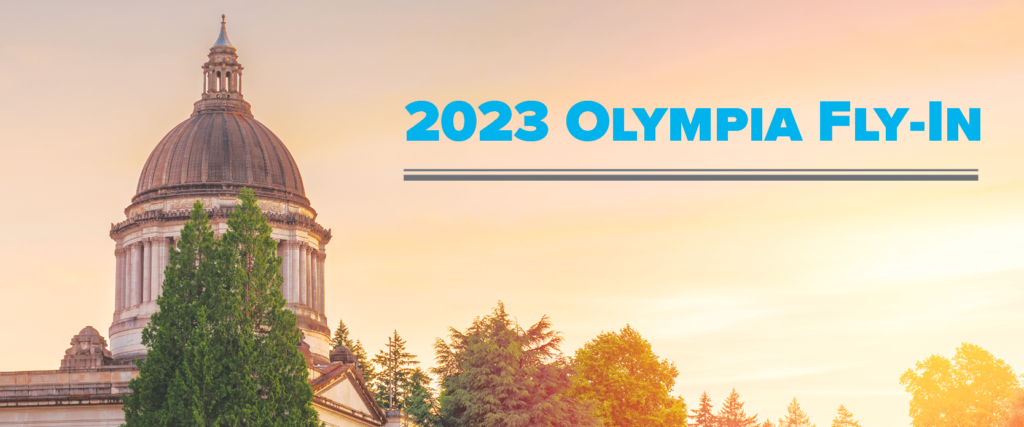 In partnership with the Greater Spokane Valley Chamber of Commerce and West Plains Chamber of Commerce, and sponsored by MultiCare, Greater Spokane Inc. hosted a delegation of nearly 60 area leaders from health care, local government, and business in Olympia from January 25-27 for three days of advocacy during the annual Olympia Fly-In.
Shortly after the team landed in Olympia on Wednesday, they met with state economist Dr. Steve Lerch, Executive Director and Chief Economist of the Washington State Economic and Revenue Forecast Council at the Association of Washington Business. Lerch kicked off the luncheon with introductions and a presentation about economic forecasting.
The group connected with representatives Larry Springer, Curtis King, Christine Rolfes, Mark Mullet, Lynda Wilson, and Drew Stokesbary on important issues including the homeless crisis, health care stabilization, economic development, permitting, transit and infrastructure, education, and affordable housing.
The team's first day in Olympia ended with the Inland Northwest Grand Reception at the Olympia Country and Golf Club where attendees gathered with friends and colleagues to meet with representatives and hear from Senior Vice President and Chief Executive of the Inland Northwest Region, Alex Jackson, President and CEO of Amerigroup, Anthony Woods, and Lieutenant Governor Denny Heck.
On day two, our region's advocates went to the Capitol to hear from Representatives Joe Schmick, Marcus Riccelli, Alex Ybarra, Jacquelin Maycumber, Senate Majority Leader Andy Billig, and Senator John Braun on the important topics of retail crime, same-day voter registration, behavioral health, education, learning loss, public safety, the environment, parks, housing and more. They also met with the first woman Speaker of the House, Laurie Jinkins, who spoke about important issues Washington is facing today, such as COVID consequences, community safety, and economic security.
On the last day, Nick Streuli, Executive Director of Policy and Outreach for the Governor's Office, spoke with Spokane leaders, focusing on housing and health care. Attendees asked Streuli about the long-awaited North Spokane Corridor and started a discussion of the challenges faced by the project.
Thank you to all attendees for being incredible advocates for the region. All accomplishments on behalf of Spokane and Eastern Washington are due to the outstanding work of leaders who gave their time, energy, and resources to issues and bring awareness of the unique needs of our communities. Check back for updates on items in the Legislative Agenda as the session ends on April 23, 2023.
Thank you to the following sponsors for helping make this event a success: Olympia Fly-In Presented by MultiCare Health System, DoorDash, Eastern Washington University, University of Washington, Amerigroup, and We Work for Health Washington.
Missed the trip? Join us for the D.C. Fly-In April 24-28, which will include sessions with members of Congress and agency officials covering various topics.