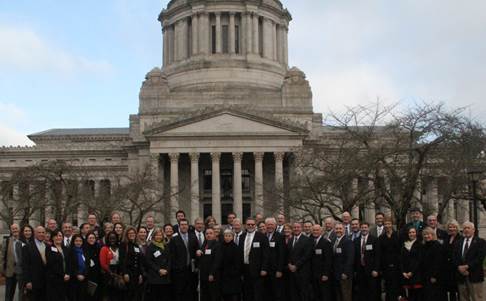 More than 130 greater-Spokane community leaders will be in Olympia this week to meet with agency representatives, staff, and elected officials to continue advocating GSI's 2015 State Legislative Priority Agenda on behalf of the region. This is important work because although the issues, legislators, and leadership at the state capitol continually change, GSI maintains a consistent presence in the policy-making process to ensure continual progress of the local and statewide business climate.
You may have heard that medical education in Spokane could be expanding significantly within the next several years. Washington State University has proposed plans to initiate a fully accredited, independent four-year medical school in Spokane. It will require start-up costs from the legislature, and a change in state law to allow multiple state medical schools here. University of Washington is asking for legislative support to double the number of students in its Spokane-based WWAMI medical education program. Both programs have a lot of momentum moving with bipartisan support through both houses of the legislature, and we intend to keep the ball rolling forward.
The top issue facing the state as a whole is the funding of basic education. The 2012 McCleary v. State of Washington decision ruled that the State had not been meeting its constitutional obligation and mandated an increase in education standards by 2018. While the decision did not specify an exact amount, it made clear is vital; so much so that last fall the Supreme Court held the legislature in contempt of court on education funding. Simultaneously, the class size reductions included in Initiative 1351 mandates additional education spending. At our Legislative Forum this fall, it was made clear that our legislators hold a diverse set of opinions on how to move forward. GSI will be bringing several business leaders and school district representatives to discuss how to best implement these changes.
Finally, the top projects in our area continue to be transportation issues. Last spring, a national transportation research group called TRIP released a report showing that deficient roads in our state are costing drivers money and this should be of interest to legislators across the state. The report – Washington State Transportation by the Numbers – estimates that the average Spokane driver loses about $1,400 annually as a result of driving on deficient and congested roads. This shows how local transportation affects us as individuals and as members of a local economy that needs infrastructure to grow. We will talk with key transportation officials during our trip to continue the conversation of how to best meet the needs of the Spokane community.
We'll continue updates from the Capitol this week, and throughout the legislative session as things progress. Stay informed by following #GSIFlyIn.