With Jim Hedrick, WA State Lobbyist and Spokane Regional Advocate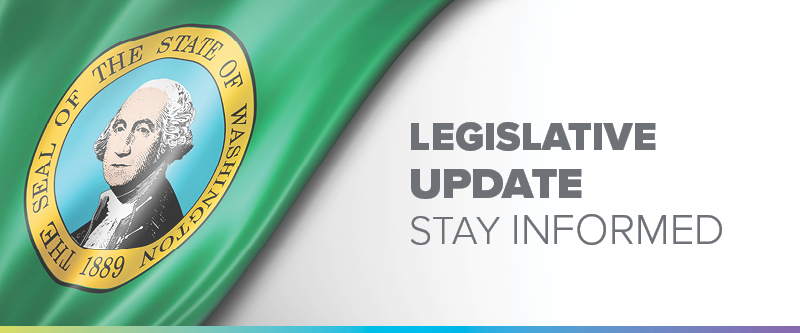 We're right in the middle of the 2022 legislative session. Read more below about the transportation revenue package, the police use of physical force bill, bills to support career pathways, and more.
Both the Senate and House now allow twice as many members on the Floor with just a few voting remotely. Lawmakers are now spending long days and nights in caucus and voting on the floor to meet the Tuesday, February 15 deadline for bills to be voted out of their house of origin.
On Tuesday, February 8, Senate and House Democrats unveiled their $16 billion, 16-year "Move Ahead Washington" transportation revenue package. The package proposes to spend:
$3.1 billion on transit programs
$3 billion on highway preservation and maintenance
$2.6 billion to fulfill the state's court-ordered obligation to replace fish passage culverts
$1.3 billion on building four new hybrid electric ferries and electrifying two existing ships
$1.2 billion to promote walking, biking, and using public transportation to get to school
Where previous packages included gas tax increases, this plan does not increase gas taxes and receives a large portion of its funding – $5.4 billion – from a cap-and-trade system signed into law in 2021. Other revenue sources include:
$3.4 billion from the Federal Infrastructure Investment & Jobs
$2 billion from the state operating budget
$2 billion from a new 6-cent-per-gallon tax on fuel exported to states with a lower gas tax rate than Washington
Because Majority Democrats did not propose using bonds to pay for the package, a supermajority of the Legislature will not be required for passage. Minority Republicans have expressed frustration that they haven't had input on what in the past has been a bipartisan process. Majority Democrats contend that in a short session year, they needed to have agreement among themselves to ensure a package could move this year. Since Republicans do not support the cap-and-trade program, Democrats contend meaningful bipartisan support could not happen.
SB 5919 (Van De Wege, D-24), voted on late Wednesday night, adds definitions related to the police use of physical force, amends when a peace officer may use physical force, and amends the standard for reasonable care. A Wagoner amendment was adopted that allows a vehicular pursuit when failing to apprehend or identify the person is considered to be a greater safety risk than the pursuit. The bill as passed on the floor also includes an emergency clause, meaning the bill will take effect upon Governor Inslee signing it into law (barring a veto action) and precludes a referendum vote of the people. The entire Senate Republican caucus supported the bill and 18 Democrats voted against it.
The House of Representatives took up their police physical force bill on Saturday, February 12. HB 2037 (Goodman, D-45) modifies the standard for use of physical force by police officers defining "physical force" and authorizing police officers to use physical force in additional specific circumstances. It passed 87-11 with 9 Democrats voting against it. HB 2037, like SB 5919, is generally supported by leadership and the law enforcement community but is strongly opposed by the families of people who have died during police interactions. Like SB 5919, the bill contains an emergency clause.
This week the Senate passed several bills that supporters hope will help improve career pathways. SB 5892 (Brown, R-8) establishes pilot projects to address the nursing workforce shortage and promote nursing careers in rural hospitals by using high school student certified nursing assistant (CNA) programs. The bill received unanimous support and has been scheduled for a hearing on Wednesday, February 16. SB 5764 (Randall, D-26), and SB 5600 (Keiser, D-33) the apprenticeship bills, also passed off the Senate floor this week and now head to the House.
Shortly before 2 am Sunday morning, the House passed Governor-request HB 1770 (Duerr, D-1). The bill updates the minimum State Energy Code requirements for residential and nonresidential construction and requires that new buildings be net-zero-ready. Republicans and moderate Democrats are critical of the policy which they say will price home buyers out of the market. Supportive Democrats contend the bill will save homeowners money over time. The bill passed 51-47 with five Democrats voting nay.
HB 1868 (Riccelli, D-3) passed during a rare Sunday afternoon floor session. The striker, an ongoing negotiation between the labor community and the Washington State Hospital Association, creates minimum staffing standards for nurses and healthcare workers in hospital settings. The striker was amended to remove the private course of action. The bill passed 55-43 with three Democrats voting against it. Directly after that vote, the House passed HB 2007 (Slatter, D-48) nearly unanimously, establishing the Nurse Educator Loan Repayment Program under the umbrella of the Washington Health Corps.
Closely watched bills that may run Monday or Tuesday before the House of Origin floor cutoff include those related to ergonomics, middle housing, transportation network companies, organized retail crime, and firearms. After the Tuesday cutoff, both chambers will return to committee work in advance of the next deadline, February 24.
For more information contact Jake Mayson, Director of Public Policy and for more details about any of the bills in this article, visit the Washington State Legislature page to search by bill number. Get caught up with legislative updates from weeks two, three, and four.