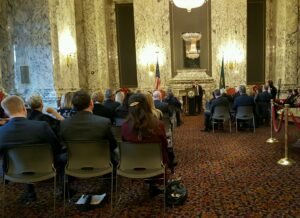 A quick recap of our time in Olympia this far before we head to the Governor's Mansion for a reception to connect with elected officials, and community partners who help us make a difference in the greater-Spokane region.
As we mentioned in Tuesday's blog, the 2016 session is a supplemental session, which means it will most likely be much shorter and not quite as action-packed as last year's. All the same, it's important for us to put ourselves, as a cohesive, unified group, in front of representatives who can help us advocate for change.
One of the major topics on the table this session is the McCleary decision – more specifically, how to fund it. The common thread of conversation that we've heard throughout all five of the sessions we've participated in thus far is that this issue is simply too large to solve during a short session, but Our legislators are dedicated to finding a plan that works and much discussion is being had in preparation for the 2017 session.
What's being done to help us create and support a stronger, more vibrant business ecosystem? How can we protect our environment and simultaneously foster a thriving business climate? Thanking our legislators for their push on the transportation package was definitely part of our conversation, but we also talked about carbon caps and water quality standards that are realistic and sustainable – for our environment, and for business. How can we better incentivize good practices? We'll be following these issues closely as the session continues, and keep you informed of progress.
We talked a lot about health sciences, research and the desperate need we have for more physicians and psychiatrists. Integrating mental and dental health into a holistic healthcare plan and continued attention on Spokane's two medical schools were also hot topics of discussion that resonated with all of our representatives. And what can we do to make changes with our homeless population? These discussions are happening in Olympia, and we'll continue the conversation at home.
Tomorrow morning we'll meet with two of our Supreme Court Justices and then head home to continue creating something greater.
Without the continued engagement and energy provided by our amazing delegation of 80-something business, education, health sciences and community leaders this trip wouldn't happen! In addition to being grateful for their continued involvement, we thank all of the legislators and esteemed speakers who took time from their incredibly busy days to listen to our concerns and ideas, and share their insights about what to expect during this legislative session, and beyond!
Governor Jay Inslee
Chief Justice Barbara Madsen | Washington State Supreme Court
Justice Debra Stephens | Washington State Supreme Court
David Schumacher, Director | Office of Financial Management
Senator Michael Baumgartner (R-Spokane)
Representative Larry Springer (D-Kirkland)
Representative Matt Manweller (R-Ellensburg)
Senator Doug Ericksen (R-Bellingham)
Representative Joe Fitzgibbon (D-Seattle)
Representative Matt Shea (R-Spokane Valley)
Senator Randi Becker (R-Eatonville)
Senator Cy Habib (D-Bellevue)
Representative Marcus Riccelli (D-Spokane)
Representative Joe Schmick (R-Colfax)
Senator Andy Billig (D-Spokane)
Senator Steve Litzow (R-Mercer Island)
Representative Bob McCaslin (R-Spokane)
Representative Chris Reykdal (D-Olympia)
Speaker of the House Frank Chopp (D-Seattle)
Senate Majority Leader Mark Schoesler (R-Ritzville)
Senator Sharon Nelson (D-Seattle)
Representative Shelly Short (R-Addy)
Also we thank our sponsors for their generous support:
And to our Joint Chambers' Fly-in partners who join us in our quest to create something greater for the greater-Spokane region