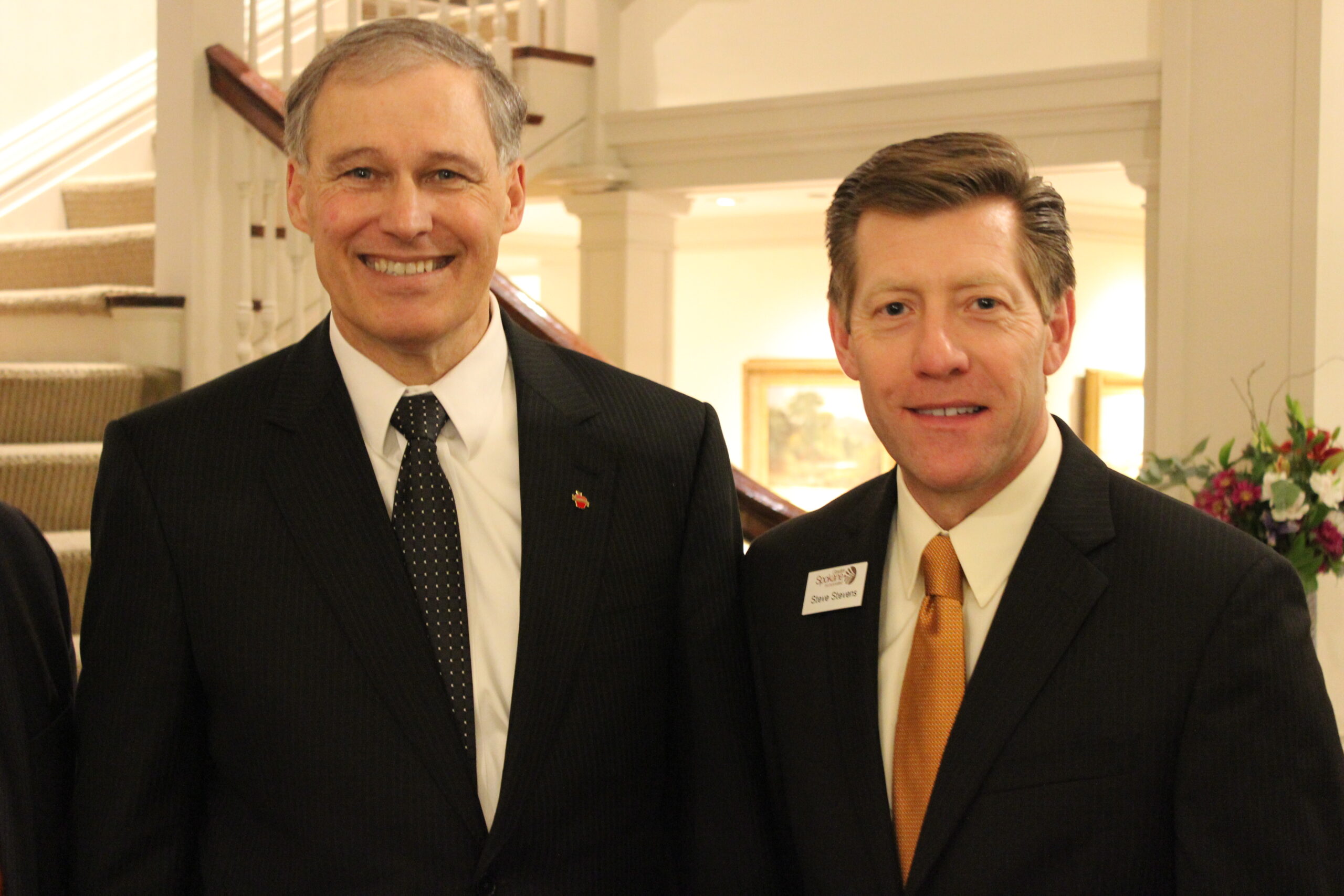 We finished strong in Olympia with a reception at the Governor's mansion last night and the Spokane Business Breakfast this morning. The Grand Reception is the culmination of our trip, allowing our Spokane delegation to network with legislators, agency officials, and each Our other in a more intimate setting than the offices of the Capitol. Steve Stevens introduced Governor Jay Inslee, who welcomed our delegation to the mansion and expressed his support for a Transportation Package that includes funding for the North Spokane Corridor.
We wrapped up our week in Olympia this morning at the Spokane Business Breakfast with Kris Johnson from the Association of Washington Businesses, of which Greater Spokane Incorporated is a member. He discussed the work that AWB is doing, including the Chamber Grass Roots Network working to organize Washington Chamber advocacy efforts being spearheaded by former GSI CEO Rich Hadley. He also encouraged everyone to attend the 2015 State of Manufacturing address being given by Jay Timmons, President and CEO of National Association of Manufacturers, in Spokane on February 10.
Our keynote speaker for the breakfast was 
Brian Bonlender, Director
of the
Washington Department of Commerce
. He shared his optimism about the future of the Washington economy and how the Department of Commerce is working hard to make it even better by focusing on three key areas: transportation and infrastructure, education and workforce development, and improving the business regulatory environment. All three of these efforts work in tandem and align closely to work GSI does to improve the business climate in the greater-Spokane region and grow our local economy.
Director Bonlender also discussed the business sector-focused economic development efforts that Commerce is spearheading. These include the
Washington Military Alliance
that helps preserve our military installations, such as Fairchild Air Force Base, and
StartUp Washington
which encourages a culture of entrepreneurship throughout the state. GSI works tirelessly on these efforts for our local area, and we are pleased that Director Bonlender referred to GSI as a partner in these pursuits.
Both of this morning's speakers, as well as a majority of the other speakers we interacted with this week recognized Spokane for its unique ability to bring a unified delegation to Olympia to advocate on behalf of the region, and the significant difference such efforts can make in the minds of our state's decision makers. We hope you will consider joining us next year when we return to continue advocating for our region in Olympia.
As our delegation heads home to eastern Washington it's imperative that we all continue the efforts realized this week in Olympia. We will continue tracking bills and calling upon our membership for support of our 2015 State Priority Agenda.