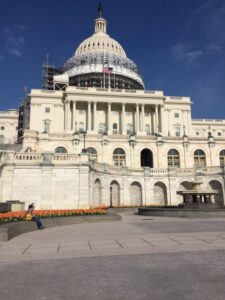 This week Greater Spokane Incorporated, in partnership with the Greater Spokane Valley Chamber of Commerce and West Plains Chambers of Commerce, are leading a delegation of 45 business, education and community leaders to Washington D.C. to advocate on behalf of Eastern Washington.
The annual DC fly-in gives area leaders the opportunity to meet with key officials and present policy priorities that are important to the region's business climate. This year's advocacy trip delegation will include representatives from local government, health care, financial, health sciences research, agribusiness, transportation and higher education sectors. These meetings reflect the items that have been prioritized on our 2016 Federal Agenda.
Meetings with leaders at the Pentagon this year will help ensure that Fairchild Air Force Base remains top of mind.
Scheduled sessions include conversations with:
• Senator Patty Murray (D-WA) and staff: (HELP – Healthcare, Education, Labor & Pensions)
• Senator Maria Cantwell (D-WA)
• Congresswoman Cathy McMorris Rodgers (R-WA)
• Congressman Denny Heck (D-WA): Export-Import Bank
• Congressman Dan Newhouse (R-WA): Agribusiness and Environment
• DOT Deputy Secretary Victor Mendez: Transportation
• Hon. Don Graves, Deputy Assistant to the President and Counselor to the Vice President; Director of          Domestic and Economic Policy for the Vice President
• Steve Martinko & Rod Hall- K&L Gates: FAA Reauthorization, FAST ACT
• Former US Representative Bart Gordon: 2016 Elections
• Adrienne Hallet, Associate Director for Legislative Policy and Analysis at the National Institutes of Health

Like last year, this year's trip will incorporate an added emphasis on International Trade. As we fortify our trade efforts to international markets here at home, we will be participating in a roundtable discussion with the Japanese Embassy at Ambassador Kenichiro Sase home.
In addition to the advocacy work and our focus on international trade, the group will be visiting the National Institutes of Health (NIH) to learn more about health science research funding and to advocate for more research funding in Eastern Washington.
Read DC Fly-In Day 2: Advocacy and Connections and Delegation Meets with Ambassador Sasae.
Regional Fly-In partners include Greater Spokane Valley Chamber of Commerce and West Plains Chamber of Commerce. The Grand Reception is sponsored by Asuris Northwest Health, the DC Luncheon is sponsored by University of Washington, and the Mobile App is Co-Sponsored by Washington State University and Washington State University Spokane. The Chief of Staff Breakfast is sponsored by Umpqua Bank.
Follow the trip with #509dcflyin and #CreateSomethingGreater; read updates on GSI's Twitter feed @GreaterSpokane, and read wrap-ups here on the blog.