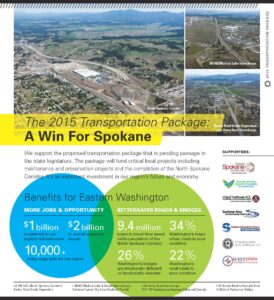 GSI along with the Inland Northwest Associated General Contractors (AGC), Spokane International Airport, the Good Roads Association, and both the Greater Spokane Valley and West Plains Chambers have been strongly advocating for the passage of a state transportation package. The package will fund critical local projects including maintenance and preservation projects, and the completion of the North Spokane Corridor. It's an important investment in our region's economic future. Over the last few weeks the group has met to discuss a way to educate our community on how beneficial this transportation package would be for this area.
We recently met with local representatives from the 3rd, 6th and 7th Districts to offer our support in voting Yes for a transportation package. Thank you to Representatives Riccelli, Short, Ormsby, and Senators Baumgartner and Billig for hearing our message: A transportation system that supports trade is critical to our region. The passage of this transportation package would create 10,000+ living wage jobs for this region, an overall $2 billion economic impact for this area. 34% of Washington's major urban roads are in poor condition, while 22% of rural roads are also in poor condition. GSI is in support of these projects, and also reform, maintenance of roads, and preservation projects for this area. And we've just learned that legislators may begin negotiating projects as early as tomorrow (June 9). Please show your support for these projects by contacting your legislator today.
On the federal side, GSI and the AGC co-hosted a meeting with Federal Highway Acting Administrator Greg Nadeau and Washington State Department of Transportation (WSDOT) Secretary of Transportation Lynn Peterson. We discussed the needed investments in transportation and that investing in transportation is critical to our entire community.
Acting Administrator Nadeau gave his prospective of funding transportation and infrastructure, and what he sees for the future of transportation. Nadeau discussed how the U.S. used to have the best and strongest infrastructure system in the world, but as we have continued to fail to update the infrastructure, we have started to fall behind drastically, and our businesses have started to be affected by the poor infrastructure. Nadeau suggested that it is time for new legislation, and one bill he continually mentioned was Grow America Act, which would give federal funding for a large amount of infrastructure projects across the nation. In the end, Nadeau and Peterson said they were both optimistic that Congress will provide the needed funding for transportation projects.
This recent post by Nudeau goes into a little more detail about the funding shortages.
For the passage of these major transportation projects, please call your legislators today to urge them to vote for Spokane's area transportation package. Here is the link to the Washington State Legislator's Page: www.leg.wa.gov.
If you are interested in being a part of our transportation efforts, please contact Sandra Jarrard at sjarrard@greaterspokane.org